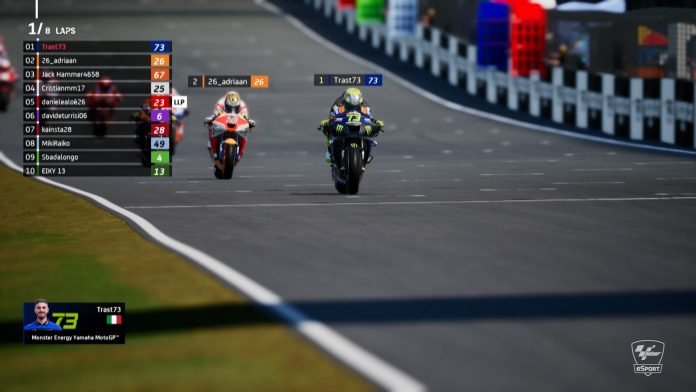 Just 22 points cover Trast73, adriaan_26, JackHammer4658 and Cristianmm17 after three epic races in Round 3 of the MotoGP™ eSport Global Series!.
As the 2023 MotoGP™ eSport Championship draws toward its finale, the championship fight is closer than ever thanks to three thrilling races in Round 3 of the Global Series, which included a first ever dead heat!
The racing was scintillating across all three races as Red Bull KTM Factory Racing's Jack Hammer4658 claimed a victory in the Tissot Sprint, before crossing the line 0.000s clear of Trast73 (Monster Energy Yamaha MotoGP™) in an epic Race 1. LCR Honda CASTROL eSports Team's Cristianmm17 then won Race 2 in MotoGP™ eSport's first ever flag-to-flag race!
An excellent round for both Jack Hammer4658 and Cristianmm17 has closed up the championship as a result, with just 22 points now covering leader trast73, 26_adriaan (Repsol Honda Team) and the in-form pair with just one round to go.
The action-packed Round 3 was one of three virtual events in this year's Global Series, before the fourth and final round will be held live at Ubeat Live Barcelona, a gaming conference with world renown, on 11th November, where the 2023 MotoGP™ eSport Champion will be crowned!
The Autodromo Internacional do Algarve in Portugal was the venue for the third Sprint of the year, before Australia's legendary Phillip Island and Thailand's Chang International Circuit hosted Race 1 and 2 respectively. In an hour-long show MotoGP™'s Kiko Giles and Jack Gorst were on presenting and commentary duties.
The third Sprint of the year was as clear cut as it got in any of the three races, as Jack Hammer4658 eased clear of Cristianmm17 to win by 0.9s, while trast73 picked up important points for third.
Race 1 will go down in MotoGP™ eSport folklore as one of the best in Global Series history. After a tricky opening to the encounter, Jack Hammer4658 made sensational progress to climb up the order and join the already epic fight for victory between trast73 and 26_adriaan with just over a lap to go. After passing the Repsol Honda with the minimum of fuss, he then drafted alongside trast73 on the run to the chequered flag – drawing level with nothing separating the riders at the finish. With their race times tied right to the thousandth of a second, Jack Hammer4658 scored victory due to his setting the fastest lap.
Race 2 was another thriller. In the first flag-to-flag race in MotoGP™ eSport history, rain started to fall on the sixth lap of eight, necessitating a trip to the pits. davideturrisi06 (Pramac Racing) gambled and stayed out an extra lap on slick tyres but was then swallowed up on the final lap. And Jack Hammer4658's last lap crash gave Cristianmm17 the win, ahead of adriaan_26 and trast73.
That means trast73 (134 points) still leads the overall standings, but it's close. adriaan_26 (128 points) is six points back. And Jack Hammer4658 (123 points) and Cristianmm17 (112 points) have both closed right in!
Tthere isn't long to wait until action resumes! We'll be back for the all-important season finale on 11th November!
For more info checkout our dedicated eSport News page superbike-news.co.uk/esport/
Or visit the official MotoGP eSport website motogp.com
>>> Read full article>>>
Copyright for syndicated content belongs to the linked Source : Superbike-News.co.uk – https://superbike-news.co.uk/four-vying-for-the-crown-after-intense-round-3/