Widely regarded as one of the fastest runners in middle-distance triathlon, American Jason West produced a run split to remember on Friday, as he went from +5:30 down to second at the PTO Tour US Open in Milwaukee.
Coming up just short of reeling in German Jan Frodeno, who led from start to finish, West outkicked Olympic champion Kristian Blummenfelt for second as the Boulder-based rocket gave the home crowd something to cheer about.
The result could potentially have been different, had a mechanical issue not cost West some substantial time on the initial stages of the bike, with the American emphasising in his post-race interview that the theme of the day was just about not giving up.
Popular Stories Right now
Jason West on US Open super show
Explaining how a small bump at the start of the bike meant he had to pull to the side in transition and get the issue fixed, West was on the back foot from the start of the run and left to valiantly chase hard for any kind of result, let alone the podium.
"Things definitely didn't go to plan, I think the theme of the day was never give up and no matter what you're doing, never give up on it.
"I had to go see the mechanic, after I just hit a giant bump and the bars came loose and the most important thing for me when I get on the race course is to go home safe and I knew I needed to stop and fix this.
"I just had to get on with the job today and just keep going, as you don't make excuses, you just keep going. Lionel came around me on the bike, and I thought okay you'll need the ride of your life to catch back up.
"I felt like maybe I blew all my matches on the bike"
After working so hard to reel the chase pack in on the bike, West admitted he was unsure how his run legs would hold up, but stuck to just going out hard and committing to catching as many people as he could.
"I felt like maybe I blew all my matches on the bike, because I caught back up to the main group and just thought okay I have to keep going and see what I've got. I took off running and I felt quite good and I just couldn't believe how quickly I was pulling people back.
"With about a lap and a half to go, I just felt like the life left me and I was left looking into my soul, and I just had nothing left. You always want to leave it all out there and Kristian came around me with 500m to go and I thought maybe that was his move, so I just took off as hard as I could.
"I'm just in shock that I was able to get there to be honest. My goal actually was to run 55:30 and I didn't achieve that today, so I am a little disappointed with the run because I had to use so many matches on the bike to get back up to that group."
Signing off with a nod to the only man who beat him, West said what a pleasure it was to have the opportunity to race Frodeno twice in his last season of triathlon, in both Ibiza and Milwaukee, with the German coming out on top both times.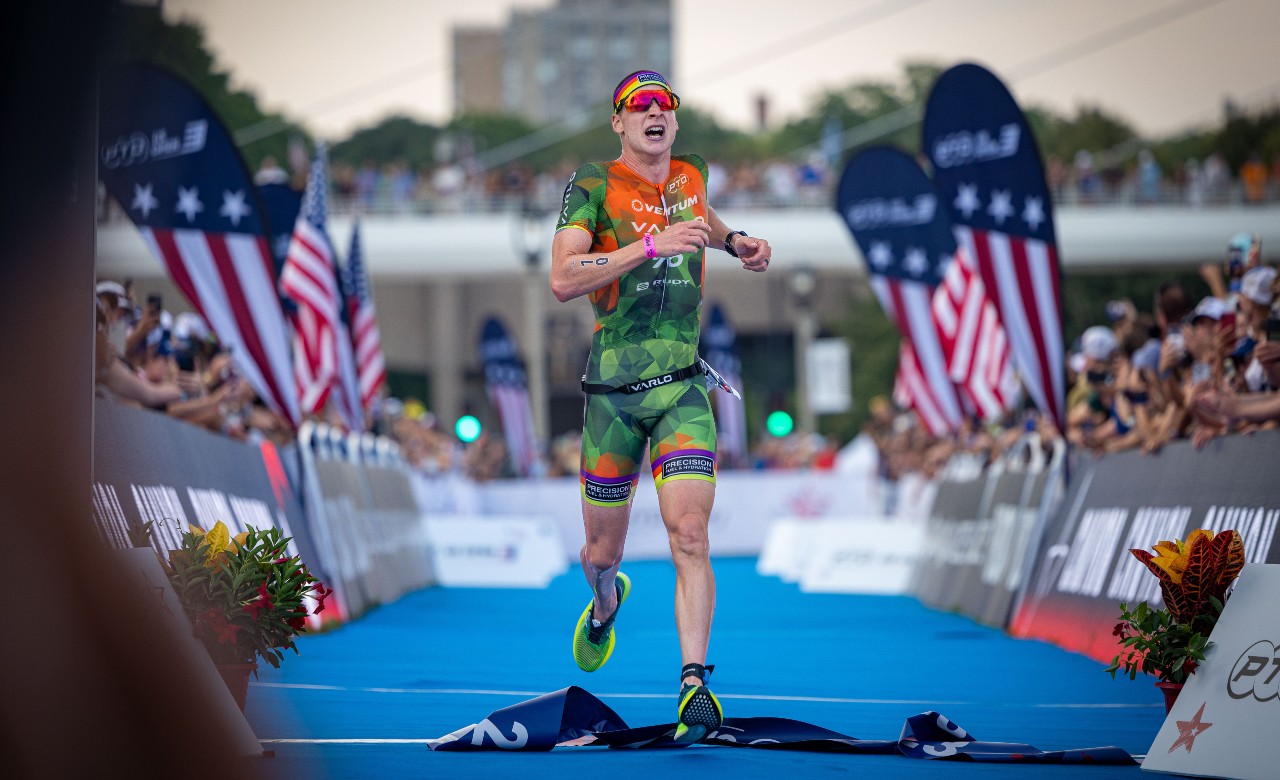 Jason West of the United States finishes second in triathlon's PTO Tour US Open in Milwaukee on August 4, 2023 (Photo – PTO).
"I'm just grateful for everything, feeling blessed and going home knowing the fitness is there and also, what an honour it is for me to get to race Jan, to see just how good he is and it is just an absolute honour for me to toe the line with him."
>>> Read full article>>>
Copyright for syndicated content belongs to the linked Source : Tri247 – https://www.tri247.com/triathlon-news/elite/jason-west-pto-tour-us-open-2023-run-split-reaction?utm_source=rss&utm_medium=rss&utm_campaign=jason-west-pto-tour-us-open-2023-run-split-reaction