Dellavedova, who played on Cleveland's NBA championship team in 2016, is blown away by this year's Next Stars.
"There are a lot of quality players who are already good and have a world of potential," Dellavedova said.
"The league and clubs have done a great job of developing the young guys and getting them set up on a solid base of playing in a very competitive, physical league and playing team basketball.
"Hopefully, they will go on and play in the NBA.
Loading
"The way the league is talked about [within the NBA] has completely changed. [I have] A lot of conversations with coaches and front office staff over the years are where they ask about specific players or ask what is going on down there? What is it like?
"We obviously play in summer, so it's a pretty big destination – a lot of people are following it closely and the Next Stars program has a lot to do with that."
Loading
The potential NBA talent in this year's NBL
Alexandre Sarr (Perth Wildcats)
Sarr's height and wing span (226 cm) plus his agility and silky skills have him listed as a potential top pick in the NBA Draft. He has come to Perth to gain experience against hardened professionals and prove he is worthy of a high selection. So far, he is playing beyond everyone's expectations by scoring in double-figures and showing his defensive skills. Some scouts question his competitiveness and whether he can build the bulk needed to match NBA big men. South East Melbourne import Tyler Cook threw down a powerful dunk on Sarr in round one but Sarr didn't shy away from the contest. Teams will look positively at his reaction.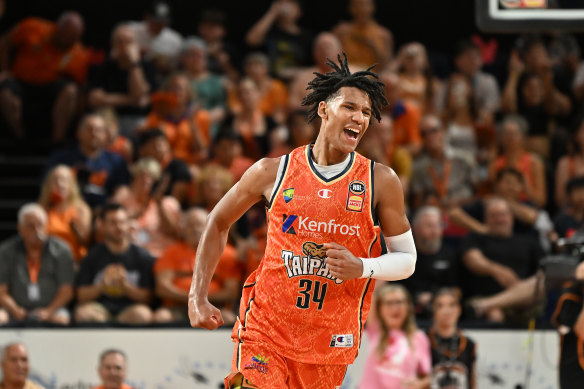 Cairns forward Bobi Klintman.Credit: Getty Images
Bobi Klintman (Cairns Taipans)
This Swedish forward has all the tools NBA teams are looking for in a modern big man, and he could have stayed in college at Wake Forest and boosted his reputation. Instead, he is trying to do this in the NBL and signs are promising that he could be a match-winner for Cairns, unless foul trouble or inexperience catch him out. Klintman has shown better than expected three-point shooting in the opening few games and he's impressed NBL and Cairns people with his affable, cultured persona. Klintman could rise up the draft board if his form continues.
AJ Johnson goes to the basket against Matthew Dellavedova.Credit: Getty Images
AJ Johnson (Illawarra Hawks)
The strong bodies of guards like Dellavedova and Shea Ili treated Johnson's 18-year-old frame like a bumper car during the Blitz but he had some impressive moments too. NBA scouts still hold his attacking talents in high regard, his challenge will be to find a way to hold up against men and show he can handle himself away from home. The Californian's boyish face and bouncy afro stand out, but he did bounce back well from breaking his nose soon after arriving in Australia. "Getting stronger is something [to work on] and understanding the game, thinking the game more than just playing it," Johnson said. "Understanding what I'm doing and handling screens and stuff. If I did something wrong, they let me know the right way."
Trentyn Flowers (Adelaide 36ers)
Flowers has had a rocky start to his NBL experience with plans to play him as a point guard shelved soon after his arrival. While he has much to improve on, he is a dynamic talent as shown by his spin-dribble and dunk during the NBL Blitz. He has tried to model his game on Boston forward Jayson Tatum and there are some similarities in how they move but Flowers needs to learn the pro game, and find a way to be more effective defensively. He should make more of an impact as the season progresses but the Sixers' tough start could see him need to battle for game time.
Rocco Zikarsky (Brisbane Bullets)
This 17-year-old Australian junior centre is worth keeping tabs on despite not being eligible for the NBA Draft until, at least, 2025. Zikarsky is 220 cm but competes and works on his game like a player who is much older. He is unlikely to play big minutes this year but is pushing for every opportunity he can get as shown in round one where he came on late and got a dunk and a block in the last minute. Every NBA team is already tracking him, some predict he could be a No.1 pick when his time comes.
Ariel Hukporti (Melbourne United)
German centre who was chasing NBA Draft selection last season before rupturing his Achilles tendon in a preseason game. Hukporti remained at Melbourne United and has come back even more athletic than when he went down. He has made big improvements in the last two years to his skills and basketball IQ while his teammates have praised his communication skills and attack on the basket. Still has a long way to go, but NBA teams are watching with interest.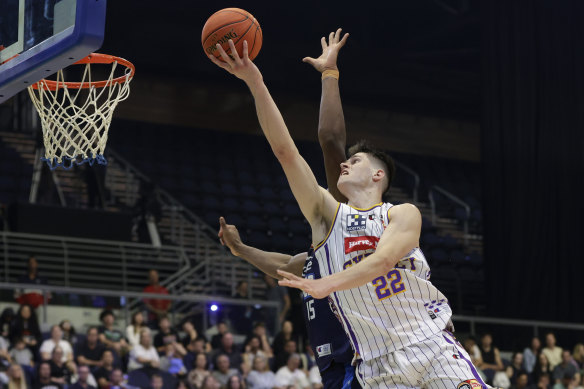 Sydney forward Alex Toohey.Credit: Getty Images
Alex Toohey (Sydney Kings)
Canberra-raised 19-year-old who plays beyond his years. Toohey shunned US college basketball with Gonzaga to join the Kings and he is already playing minutes and is fearless in taking his three-point shots or attacking the basket. The Kings are playing him in meaningful minutes and he is, so far, responding. Needs to mature physically but has NBA potential as a dynamic forward who can influence the game in defence and offence.
Mantas Rubstavicius (New Zealand Breakers)
The Lithuanian wing was heralded by Breakers coach Mody Maor as the Next Stars prospect who would be the most influential player this season but a groin injury has so far sidelined the 21-year-old. Rubstavicius is said to be an elite scorer and playmaker who cares about winning. He sounds like an exciting talent.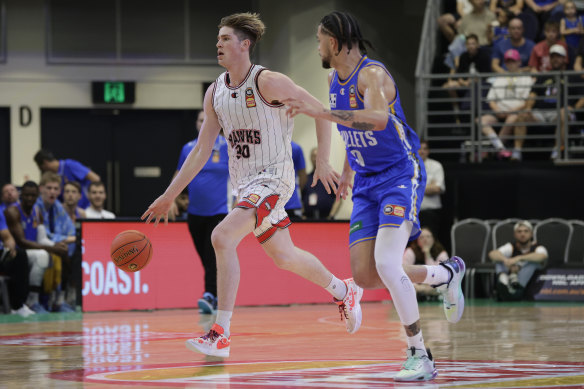 Illawarra big man Lachlan Olbrich in action during the NBA Blitz.Credit: Getty Images
Lachlan Olbrich (Illawarra)
A 19-year-old Australian power forward who has come home early from US college and made an immediate impact with his hard-running, rebounding and explosiveness. Olbrich appears to have the size and bounce NBA teams covet, his challenge this season will be to show it consistently while also polishing his other skills. He surprised many scouts at the Blitz, a strong campaign for Illawarra could be his ticket to the pros.
Ben Henshall (Perth Wildcats)
Perth native is already making an impact in games with 24 points against Phoenix in round one. Henshall is a nature basketballer who already looks at home at pro level, but he needs time to develop his body and fine-tune his game. He signed a multi-year deal with Perth Wildcats and already looks a steal.
Taran Armstrong (Cairns Taipans)
Left college a little early and already looks at home in the NBL with his passing and vision. Still plenty of work to do to become an NBA draftee but looks on the right path. If nothing else, Armstrong is a very entertaining player who can find the open man on any part of the court, he also fits the Taipans team like a glove.
Matthew Dellavedova drives to the basket.Credit: Getty Images
Matthew Dellavedova (Melbourne United)
NBA-championship winner. Dellavedova aims to turn a strong NBL season into an NBA return late in the campaign just as Andrew Bogut and Xavier Cooks have done before him. An NBA playoff team would benefit from a leader like Delly and he has strong ties to Sacramento Kings, where he played last season, Cleveland Cavs and Milwaukee Bucks where he spent much of his US career.
Denzel Valentine (Sydney Kings)
The former Chicago Bulls player was out of the NBA last year but wants to use his season in Sydney as an audition for a late-season call-up. His versatility and hunger to prove himself could be desirable although he is still honing his role in the harbour city.
Will McDowell-White (NZ Breakers)
Australian playmaker who has been on the NBA fringe for a number of years, he could be attractive to teams as a backup guard if his growth from last season continues.
Luke Travers attempts to block the shot of Illawarra's AJ Johnson.Credit: Getty Images
Luke Travers (Melbourne United)
Cleveland Cavs own his draft rights. If they need a wing player late in the season, they could do worse than call up Travers but such a call looks more likely to come ahead of next season or beyond.
Mitch Creek (South East Melbourne)
The Phoenix skipper is clearly an NBA-level talent and has spent time with Brooklyn and Minnesota previously, he remains ready if a team calls.
>>> Read full article>>>
Copyright for syndicated content belongs to the linked Source : The Sydney Morning Herald – https://www.smh.com.au/sport/basketball/nbl-2023-a-world-of-potential-meet-the-future-nba-players-in-this-season-s-nbl-20231005-p5e9zj.html?ref=rss&utm_medium=rss&utm_source=rss_feed