This wrap of shows around Melbourne includes the return of Mamma Mia! The Musical, a five-star performance by a much-loved band, Bell Shakespeare's touring production of Twelfth Night, a five-star performance by Academy of St Martin in the Fields with Joshua Bell, and a cathartic gig by Tems at Forum Theatre.
MUSICAL THEATRE
Mamma Mia! The Musical ★★★
Princess Theatre, until 10 December
Dust off your sequined jumpsuit and knee-high boots and revisit those phenomenally successful ABBA hits that rocked the '70s. Mamma Mia! The Musical is back, and the stars remain Benny Andersson and Bjorn Ulvaeus's songs.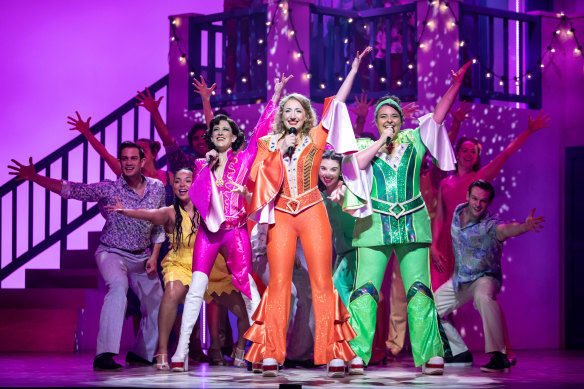 Deone Zanotto, Elise McCann and Bianca Bruce in Mamma Mia! The Musical Credit: David Hooley
Catherine Johnson's narrative focuses on former wild-child Donna (Elise McCann), who now runs a taverna on a Greek island. Her daughter, Sophie (Sarah Krndija), is marrying Sky (Lewis Francis) at the ripe, old age of 20 – far too early according to her '70s feminist single mother.
Wedding preparations take a dizzying turn when – unbeknown to her mother – Sophie invites three of mum's past lovers to the wedding: Sam (Martin Crewes), Harry (Drew Livingston) and Bill (Tim Wright), in the belief that one is her dad.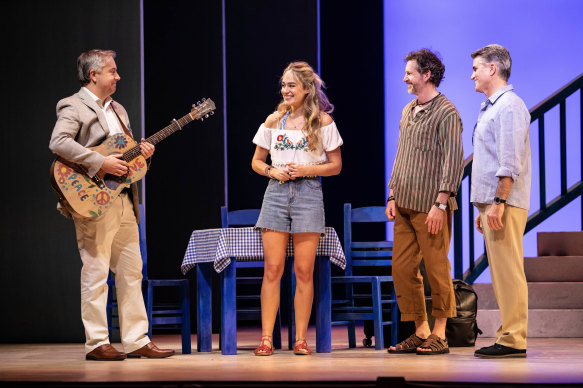 In Mamma Mia! wedding preparations take a dizzying turn when, unbeknown to her mother, Sophie invites three of mum's past lovers.Credit: David Hooley
The lyrics of ABBA's memorable, singable songs tell stories about love found, love lost and life's other hiccups, all of which make them eminently suited to musical theatre. The tissue-thin narrative is contrived to incorporate a repertoire of 20+ tunes and the lyrics effectively act as dialogue, illuminating characters, revealing their inner lives and relationships, and advancing the story. In contrast, much of the unsung dialogue is uninspired or trite and works best when threaded into songs or underscored by music.
McCann has fine vocal technique, a clear tone and impeccable control. Her Donna is the heart of this production, shifting from cheerful confidence to tremulous anxiety and confusion. Her emotional meltdown triggers a frantic, funny rendition of Mamma Mia, and her The Winner Takes It All is impassioned and moving.
Crewes' voice has power and warmth; his duet of SOS with McCann is a show highlight, and he transforms Knowing Me, Knowing You into a poignant ballad about Sam's divorce.
Donna and her pals, naughty Rosie (Bianca Bruce) and saucy Tanya (Deone Zanotto), revive their '70s girl group, donning glittering blue, ABBA-lookalike jumpsuits for a super version of Super Trouper. As Sophie, Krndija is pert and effervescent with a sweet vocal tone, but her voice occasionally lacks control, while Zanotto's audacious, sultry Does Your Mother Know is a thrilling showstopper.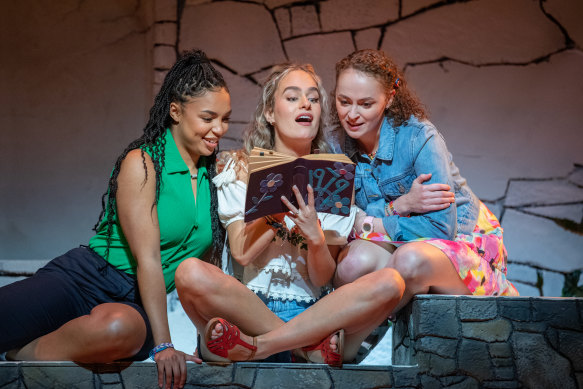 L-R: Kadesa Honeyhill, Sarah Krndija, Nina Carmen.Credit: Getty Images, James D Morgan
Gary Young's production is exuberant, with a tight, sassy band and a spirited, boisterous chorus performing Tom Hodgson's energetic choreography that pulsates with dance party rhythms.
ABBA's hits keep coming, and, once the narrative is complete, the temperature rises for a rousing finale comprising Mamma Mia, Dancing Queen and Waterloo that has the enthusiastic crowd dancing in their seats.
Let's face it: ABBA's melodies get the crowd singing, clapping and cheering, so despite its flaws, Mamma Mia! The Musical is failsafe.
Reviewed by Kate Herbert
MUSIC
Weezer | Indie Rock Road Trip ★★★★★
John Cain Arena, October 6
There's something wonderfully wholesome about US indie rockers Weezer. Their songs won over a generation of '90s grunge kids, but it's clear from the turnout at John Cain Arena on a rainy Friday night that they haven't stopped pulling fans.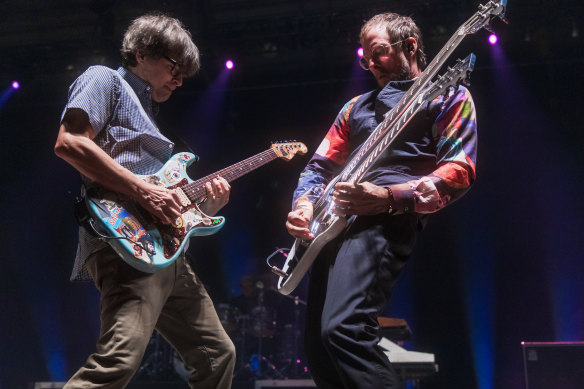 Much-loved indie rockers Weezer keep pulling in the crowds. Credit: Rick Clifford
Two merch lines snake back at least 20 metres as 40-somethings, some with their kids, and a new wave of listeners in their 20s queue for tees with the iconic W logo.
After a hit-filled set by fellow '90s-era band Regurgitator, who bounced on the stage wearing nun costumes, the near sell-out crowd is ready to rock some more.
My Name is Jonas, a cult favourite, is a strong opener for the Australian leg of the Indie Rock Road Trip tour.
With his black-rimmed glasses and shaggy hair, lead singer Rivers Cuomo is the lovable rock equivalent of Marty McFly. He rips through guitar solos, jogs up and down the stage and gets the crowd clapping along to the band's trademark nerd-rock.
Weezer's Rivers Cuomo performs at John Cain Arena on Friday night.Credit: Rick Clifford
During In the Garage – an ode to a safe haven with Kiss posters on the wall – Cuomo sings, "I've got Ace Frehley, I've got Peter Criss, waiting there for me, yes, I do". Afterwards, he excitedly tells the Melbourne audience that Weezer will be supporting Kiss in Sydney the following night.
"It's a dream come true for me," he says.
Loading
Despite touring across the US and Canada, performing more than 30 shows since June, Weezer have plenty of juice in the tank. It's hit after hit, mostly from The Blue Album, the band's 1994 debut album.
After a brief encore, the show wraps with Buddy Holly – a song that endeared the band to fans more than 30 years ago with its upbeat rock as much as the Spike Jonze-directed music video filmed on the set of Happy Days.
Reviewed by Kate Jones.
THEATRE
Twelfth Night ★★★★
Bell Shakespeare, Monash Performing Arts Centre, October 3
Twelfth Night is an evergreen gender bender; Bell Shakespeare productions over the decades have felt unusually attuned to the zeitgeist. John Bell himself blazed a trail for a distinctively Australian style of Shakespearean performance, skewering histrionic pretension as the haughtiest of Malvolios, while director Lee Lewis took a graver and gentler approach to the play, transforming it into a memento mori, a quietly cathartic comedy risen from the ashes of the Black Saturday bushfires.
The latest production of Twelfth Night by Bell Shakespeare offers a fresh and enjoyable interpretation.Credit: Brett Boardman
This latest national tour offers a fresh and enjoyable interpretation, with cross-gendered casting that leans into the 21st-century focus on gender and sexuality, showing just how mutable and diverse the experience of those things can be.
Director Heather Fairbairn knows this isn't a radical idea. Shakespeare has a protean, sometimes contradictory perspective – he entangles elements of gender suspender, defender, extender and upender – and Fairbairn reaches back into history, seeking a contemporary dramaturgical analogue to the playful artifice of Elizabethan performance.
Here, shipwrecked fraternal twins Viola and Sebastian are gender-flipped to disorienting effect. Isabel Burton first appears as Viola, but when she cross-dresses as a boy, Alfie Gledhill takes over, with Burton reverting to the role of Sebastian. The romantic confusions that follow are a knot too queer to untie.
It's no coincidence that the names of their paramours, Orsino and Olivia, begin with "O". Garth Holcombe and Ursula Mills play them as empty, comically infatuated vessels, leaving the balance of interest and sympathy in the shenanigans of their subordinates.
Following in the footsteps of Tamsin Greig (who first played Malvolia as a woman for the National Theatre in London), Jane Montgomery Griffiths gives an extraordinary performance. She's a prim stickler, a lesbian appointed to serve a mistress who has literally abjured the company of men.
The design of Twelfth Night might be static in the first half but blossoms in the second.Credit: Brett Boardman
Gendered violence infects the confrontation with Sir Toby (Keith Agius), who drunkenly gropes Malvolia, leading her to snap at the servant Maria (Amy Hack). The sharp cascade of abuse sparks a vengeful prank – a betrayal worse for the absence of a love (the courtship between Maria and Sir Toby has been excised) to explain it, and the abject cruelty of Malvolia's fate stops the comedy in its tracks.
Though emphatic about the extent of Sir Toby's alcoholism and disorder, the male clowning still entertains. A kilted Agius is as charming as he is alarming, and Mike Howlett brings a precise and likeable haplessness to the follies of Sir Andrew.
Another drawcard is Sarah Blasko's music. Her songs achieve a haunting and ethereal melancholy. They're sung in an exquisite, almost epicene register by Tomas Kantor, whose vampy, cabaret-style Feste seems to hover charismatically between feminine and masculine worlds.
The design might be static in the first half but blossoms in the second, and the eye doesn't need constant distraction in the presence of such a clever and imaginative engagement with the text.
Reviewed by Cameron Woodhead
Twelfth Night is touring to Geelong Arts Centre, Oct 5-7; Canberra Theatre Centre, Oct 13-21; Sydney Opera House, Oct 24-Nov 19.
MUSIC
Academy of St Martin in the Fields with Joshua Bell ★★★★★
Melbourne Recital Centre, October 4
In a truly ebullient start to its first Australian tour in six years, the Academy of St Martin in the Fields left no doubt it remains a uniquely compelling force in a crowded field of fine chamber orchestras, especially under the dynamic leadership of violin virtuoso Joshua Bell.
The Academy of St Martin in the Fields left no doubt it remains a uniquely compelling force in a crowded field of fine chamber orchestras.Credit: Laura Manariti
On paper its first program seemed highly conventional: Mozart's Overture to The Marriage of Figaro and Symphony No. 40 in G minor interleaved with Beethoven's Violin Concerto. However, the execution of these standard works was anything but routine.
Leaping to life with incredible verve, the overture pulsed with joyous rhythmic energy, born of incisive attack and well-considered articulation. The orchestra's prodigious weight of sound, coloured by fine winds, was full but not forced, underlining the music's vibrant sense of occasion.
This immediacy of sound lent profound emotional impetus to Bell's powerful account of the Beethoven concerto. Maintaining the dramatic tension of the opening allegro throughout, a dazzling cadenza by Bell himself brought the movement's titanic struggle to an exciting close. A contrasting air of quiet recollection characterised the central larghetto, eliciting beguiling soft playing, before the rondo finale established a sense of infectious joy, capped by yet another bravura solo display.
The orchestra's prodigious weight of sound, coloured by fine winds, was full but not forced.Credit: Laura Manariti
Bell and the orchestra captured the fevered opening mood of the symphony well, shaping its lines with admirable flexibility, a trait that also benefitted the flowing andante and ensuing menuetto. A sharply etched finale, with excellent contributions from Fiona Cross on clarinet, once again saw the orchestra's evident pleasure in making music together paying enormous artistic dividends.
An encore – the waltz from Tchaikovsky's Serenade for Strings – provided an elegant moment of decompression after the intensity of the main program.
After such a memorable and immersive musical experience, it was no wonder the capacity audience offered the players a rapturous ovation.
Reviewed by Tony Way
MUSIC
Tems ★★★★
Forum Theatre, October 3
Tems struts beneath orange flashing lights. The Nigerian R&B star is performing live at the Forum as part of her debut Australian tour.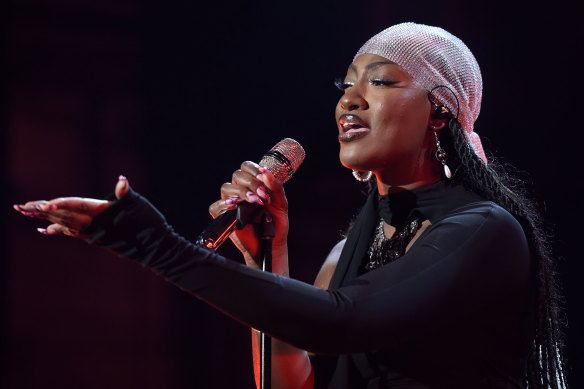 Tems performs at the Forum.Credit: Martin Philbey
She loops around her bouncing back-up dancers, as her white scarf tornados around her. "I said five in the morning, wake up to fight for my earnings." Raising one hand in the air, she sings, "I really need, I really need time now, I really need, I need a free mind now."
Tems' loyal fans haven't stopped swaying to the gently ebbing groove, hanging on her every word. They call out to her, shouting, "The Queen of Afrobeats!" – a Nigerian music genre that brings west African music together with American funk, jazz and soul.
In February, the 28-year-old musician picked up her first Grammy Award. She has collaborated with the likes of Drake, Rihanna and Beyoncé.
Tems' performance was fierce, nostalgic and warm.Credit: Martin Philbey
On stage, west African drum rhythms underscore her fierce presence while her nostalgic and warm R&B chords imbue the room with a deep sense of soul.
Loading
In interviews, Tems says her debut EP, Broken Ears, was a response to toxic relationships and depression. In concert, she lays her broken feelings bare in tones that aren't alarming but are accessible. As the crowd lose themselves in dance, healing by way of sharing in the emotional soundscape becomes something really cathartic.
Towards the close of the performance, the beat for Tems' hit track Essence drops. "I feel it comin', time is of the essence, I tried to teach you, but I need some lessons."
The dancers slowly drift backwards, and the musicians strip their sound to a clap from the cymbal, giving Tems a moment to speak for herself. She cries, "You don't need no other body, you don't need no other body, you don't need no other body!"
Reviewed by Mahmood Fazal
Find out the next TV, streaming series and movies to add to your must-sees. Get The Watchlist delivered every Thursday.
Most Viewed in Culture
Loading
>>> Read full article>>>
Copyright for syndicated content belongs to the linked Source : The Sydney Morning Herald – https://www.smh.com.au/culture/live-reviews/a-hotly-relevant-play-about-gender-bending-try-this-one-by-shakespeare-20231004-p5e9mm.html?ref=rss&utm_medium=rss&utm_source=rss_feed