It is the smell that hits you first. It wafts into your nose and lingers.
"Acrid. Disinfectant mixed with body odour. Stale," describes former journalist turned meditation teacher Joh Jarvis.
"There are no windows that are open, there is no airflow, so the air has a real stagnancy to it."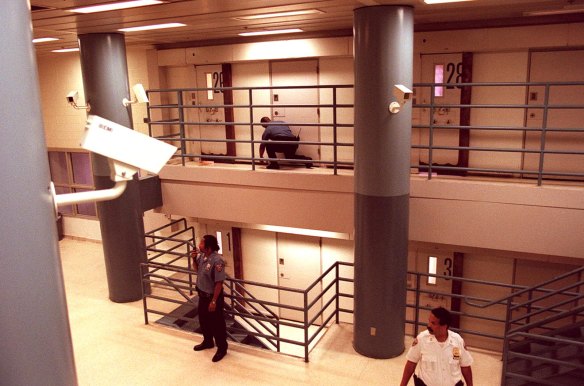 Inside a housing unit at Rikers Island.
It can be chaotic, too, she says.
"There are often men just sort of standing there holding the bars looking at you. They might yell things out trying to get your attention because they're bored," she explains.
"That's one of the defining features of jail, everyone is waiting to be sentenced, they don't know what's going to happen to them, so everyone is anxious and there's a sense of disorder in the place, often chaos."
'Everyone is waiting to be sentenced, they don't know what's going to happen to them, so everyone is anxious and there's a sense of disorder in the place, often chaos.'
Joh Jarvis, meditation teacher
This is life inside Rikers Island in New York City, one of America's most infamous jails. Those incarcerated here are on remand, awaiting trial or sentencing, many for serious, even heinous crimes.
It can be a desolate, bleak place, Jarvis says, and is wedged between the boroughs of Bronx and Queens, surrounded entirely by the East River. LaGuardia Airport lays to the south, planes fly overhead as a stark reminder to inmates of their incarceration, teasing freedom to those who may never experience it again.
Violence often breaks out between gangs, even as correctional staff do their utmost to keep rivals segregated. It can be deadly; eight men have lost their lives on the Island this year, according to The New York Times.
And it is where Australian expat Jarvis teaches meditation.
"I've never been more excited about a job ever, than volunteering in jail, it's the best job I've ever had," she says.
Jarvis had a 23-year career with ABC Radio before, eight years ago, she put her Surry Hills home on the market, packed up her bags and said goodbye to everything and everyone she knew.
She was accomplished; a reporter with The World Today, a senior producer for Jon Faine on his highly-rated morning Melbourne program, before moving into editorial leadership positions in Sydney.
But it was two stints in the Northern Territory, reporting on First Nations communities and the aftermath of the Royal Commission into Aboriginal deaths in custody, that imparted something on Jarvis that changed the way she thought, forever.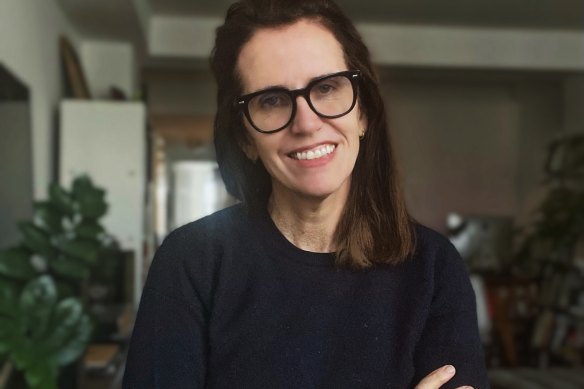 Joh Jarvis, Australian journalist turned meditation teacher, leads meditation classes inside one of America's most notorious jails – Rikers Island.
"I wanted to, as a journalist, to explain things to people. I wanted to explain things to myself, and I wanted to find solutions through journalism. And eventually, I just saw that things are repetitive," she explains.
"Journalism sort of became like Whack-a-Mole. There was this problem that you would expose, bringing the light of journalism to it. And then something else would pop up over there and suddenly something else would pop up over there, it was exhausting. And then I found meditation."
When she first arrived in New York, Jarvis supported her meditation teaching with freelance writing, but that soon fell away. A probing conversation with a mentor gave her the chance to realise what it was she really wanted to do.
"He said to me, if there was one cohort of people you'd really feel passionately about teaching, who is it? And I said, incarcerated people without missing page," she recalls.
'If they're thrown out there with no new skills, no ability or no capacity to self-reflect because they're so full of stress and trauma, then you're doing society a disservice.'
Joh Jarvis, Rikers Island meditation teachers
But that was not straightforward. Gaining volunteering rights at Rikers Island was an arduous task, and months of unanswered emails and phone calls followed.
Eventually, in 2020, she was granted access. Jarvis had applied to teach women, but it was with men, in the George Vierno maximum security unit, where she was given her opportunity.
And while there have been COVID periods where jails and prisons were shut down, Jarvis has had an incredible impact on the lives of these men. She has taught 100, so far, to meditate.
Loading
The guards, so familiar with her now, have given her the moniker "Om".
Her commitment is demonstrated by the two-hour to-and-from commute she carries out to get to Rikers every day; "One long subway trip, followed by one very long bus trip."
She then boards "a hulking old bus" that takes her to the different sections of the jail. She no longer has an escort and is trusted to make her way between units as she leads her four-day meditation course to new and newly interested inmates, and then shuttles around to other parts of the Island to see how her students are fairing.
At six foot, three inches, inmate "Angel" is a "huge guy". He is also one of Jarvis' students.
Following a recent class Angel told Jarvis he was feeling "softness inside him" and was scared of what that vulnerability might do to him on the inside.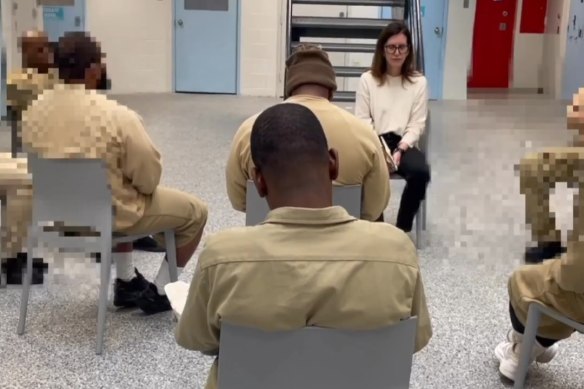 Jarvis leads a meditation class at Rikers Island.
"It's not how these men want to feel, they're constantly in flight or fight, on edge, ready for anything, they're used to life on the streets and that anxiety and fear is heightened in jail," Jarvis says.
"I told him that what's happening in meditation is that the stress is leaving your body; your senses become sharper, your eyesight becomes better, your peripheral vision becomes better. Your hearing becomes better. And anger disappears."
Angel wanted to know; "Is this going to help me on the street?"
Loading
"You won't be overreacting," she explained to him. "You will think before you act. That's often what causes people to end up in jail, they react too quickly. And then something bad happens."
Another student, Gerson, has been meditating twice a day, for five months.
In a recent visit, Jarvis says he told her "a lot of anger comes out of me" after meditating. And that his mother had remarked about how "different he sounded" and that, while life had an uncertain trajectory, he felt "more peaceful".
Jarvis is hoping to expand her The Light Inside program and will soon fly to America's midwest to speak with a prison there.
And, one day, she hopes to be able to put meditation teachers in jails and prisons right across the US. And perhaps extend the dream to her home in Australia.
"If you can provide something which starts to heal the trauma, perhaps when people are released, they're going to be less likely to repeat what has happened before, and if, in jail or prison, there are a couple of people who know how to meditate, that will bring the temperature down in the units, just with a few who can learn how to take the edge off," Jarvis says.
"If they're thrown out there with no new skills, no ability or no capacity to self-reflect because they're so full of stress and trauma, then you're doing society a disservice."
Start the day with a summary of the day's most important and interesting stories, analysis and insights. Sign up for our Morning Edition newsletter
Most Viewed in National
Loading
>>> Read full article>>>
Copyright for syndicated content belongs to the linked Source : The Sydney Morning Herald – https://www.smh.com.au/national/inside-america-s-most-notorious-jail-this-aussie-expat-is-teaching-murderers-meditation-20230930-p5e8rb.html?ref=rss&utm_medium=rss&utm_source=rss_feed