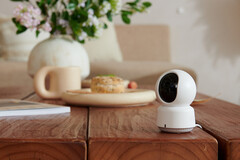 The new Camera E1 comes with a 2k sensor. (Source: Aqara)
Aqara's latest smart home camera offers great bang for very little buck. For less than US$100, the Aqara Camera E1 boasts a 2k sensor, wide-angle lens, night vision, and is compatible with a range of third-party platforms including Apple HomeKit, Amazon Alexa and Google Home.
The Camera E1 is the fifth in Aquara's home surveillance lineup. After its initial announcement in September at the IFA 2023 show, this smart indoor camera is now available in stores in Europe and the US.
In terms of specs, Aqara's latest and least expensive camera is most similar to the Camera Hub G3 – having a 2k sensor, a crisp 1296p resolution and f/2.0 wide-angle lenses with an infrared backlight. It even has 360° Pan/Tilt zoom. But unlike the Hub G3, the E1 is not a smart home hub, which makes it more affordable and lowers the barrier to enter Aqara's smart home ecosystem.
Like other Aqara smart home devices, the Camera E1 shines in multi-platform support – including Amazon Alexa, Google Home, Apple Home, and the dedicated Aquara app. Aqara has also confirmed that the E1 will work with Matter when the specs of the cross-platform standard add camera support.
Near-universal compatibility places the Aqara Camera E1 in a rather niche position. Few other cameras fully support Apple HomeKit Secure Video, and fewer still for a US$59.99 asking price. However, users will still need to set up the camera on the Aqara app before they can link it to Apple's end-to-end encrypted HKSV service.
Although the Camera E1 is not capable of connecting to the Zigbee-based motion sensors in Aqara's lineup, it has a dedicated NPU for person and motion detection. Aqara also promises to add sound detection in a future OTA update.
All these features are expected to work without an internet connection. Still, the E1 has WiFi 6 built-in, a first for the Aqara product lineup.
The Aqara Camera E1 currently costs US$59.99 on Amazon and offers 24 hours of free critical storage on the Aqara cloud service. Users can access additional storage through the iCloud platform. There is also the option of up to 512 GB of local storage via a microSD card, which can be backed up to NAS on the Aqara app.

I was fortunate to be exposed to the awesomeness of tech as a child. I delighted in seeking out the nerdiest sci-fi gadgets I could afford to play with. These days I take a professional interest in biotech, especially health-tracking wearables, and futuristic smart home appliances. If you ever come to Unilag's College of Medicine, you'll probably find me geeking about some biomedical discovery. That's if I'm not scrolling YouTube shorts. Or sleeping.
Sarfo Ashong-Listowell, 2023-11-17 (Update: 2023-11-17)
>>> Read full article>>>
Copyright for syndicated content belongs to the linked Source : NotebookCheck – https://www.notebookcheck.net/Aqara-launches-Camera-E1-with-2K-sensor-and-Apple-HomeKit-support-for-US-59-99.769863.0.html