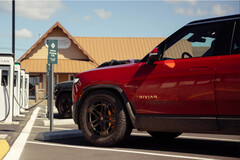 Rivian's R1S electric SUV is now capable of delivering 400 miles of range on a single charge, but it means drivers will have to spend more time charging. (Image source: Rivian)
Rivian's R1S electric SUV is now available with the Max pack battery option in the online vehicle configurator, which bumps the maximum range of the EV up from 352 miles (~566.5 km) to 400 miles (~643.7 km). The Max pack is still unavailable for the top-end Quad-Motor AWD variant of the R1S.
When Rivian started shipping the R1S electric SUV back in August 2022, the vehicle was only available with the Standard and Large battery packs, delivering a respectable 260 miles and 352 miles of range, respectively. Now, the brand seems to be readying itself to deliver R1S units with the Max pack as well — as an eye-watering US$16,000 option.
For now, the Max pack appears to be limited to the Dual-Motor and Performance Dual-Motor variants of the R1S, and in both vehicles, the option costs US$16,000. That's around ~US$114 per mile over the Standard pack and ~US$208 per mile over the Large pack, making it a rather expensive update. For comparison, Tesla's Model Y works out to ~US$93 per mile when opting for the Model Y Long Range over the base Model Y.
High pricing on the Max pack may be a deliberate move by Rivian in order to limit those orders to customers who sincerely need it rather than those simply looking to quell misplaced range anxiety. It could also simply be a consequence of Rivian's brute force range strategy — in which it makes up for a lack of aerodynamics by stacking the battery with more capacity — that can also lead to longer charge times.
In the case of the Max pack, it is likely a 180-kWh battery pack, which means charging from empty to full will require a considerable wait, even at DC fast chargers.
Buy a Seweder EV Charging Cable Garage Door Pass Through Protector on Amazon.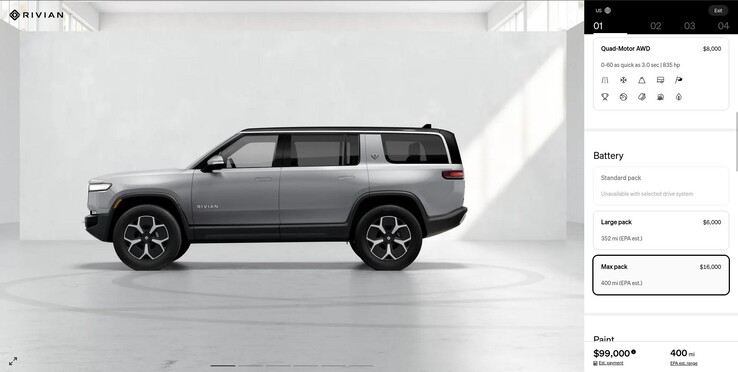 Rivian's R1S vehicle configurator now has the Max pack battery as an option for all Dual-Motor trims. (Image source: Rivian)

Julian van der Merwe – Magazine & Specialist News Writer – 385 articles published on Notebookcheck since 2022
My interest in tech started in high school, rooting and flashing my Motorola Defy, but I really fell down the rabbit hole when I realised I could overclock the i7 930 in my Gigabyte pre-built PC. This tinkering addiction eventually lead me to study product design in university. I think tech should improve the lives of the people using it, no matter the field. I like to read and write about laptops, smartphones, software and trends in technology.
Julian van der Merwe, 2023-10- 3 (Update: 2023-10- 3)
>>> Read full article>>>
Copyright for syndicated content belongs to the linked Source : NotebookCheck – https://www.notebookcheck.net/Rivian-R1S-Max-pack-battery-with-400-mile-range-arrives-on-configurator-as-eye-watering-US-16-000-option-for-dual-motor-variants.757128.0.html