Canva, a design software company, revealed nearly a dozen artificial intelligence-driven tools that allow office workers to create new designs in seconds. The tools can generate a video from a text prompt, write text in the tone of a certain company, or transform designs from one format to another—such as from a text document to a presentation.
The company wants to bring all these AI-driven features into one place for users. "The AI space is currently pretty scattered and disorganized," Cameron Adams, the co-founder and chief product officer at Canva, said in an interview with Quartz.
Canva's latest tools come as nearly every company is incorporating AI into their products and processes. When Canva started in 2013, it was operating during a time when technology was focused on JavaScript and mobile apps, Adams said. Now, he sees AI as the next era of visual communication.
The tools are powered by different large language models (LLM), a type of AI system that is trained on vast amounts of data to generate human-like text. These LLMs include in-house ones, OpenAI's model, and one from Runway.AI, the maker of AI-based film and editing tools. Many of Canva's features are available via a paid subscription.
What Canva's AI tools look like in use
So, how does converting content from one format to another work within Canva's new AI framework?
One of the AI features, called "Magic Switch," knows what a great document looks like and what a great presentation looks like, Adams said. Say you feed the feature a text document about the beach. It can condense the paragraphs into one sentence, and then add an image related to the paragraphs, and the tool will create an entire presentation based on the content from just the text document, Adams explained.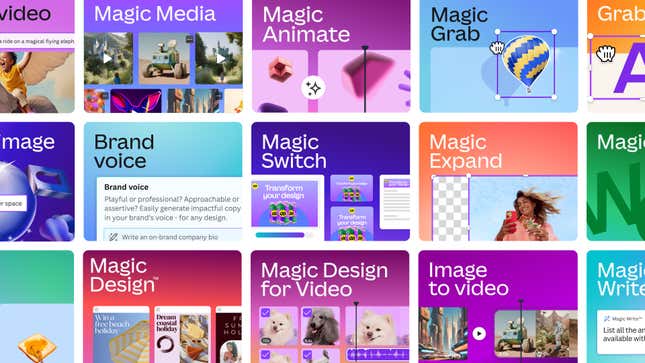 Compilation of Canva AI-powered design features.Image: Courtesy of company
Internally, employees have used this feature to transform whiteboards into blog posts—something that would normally take hours is done in seconds, Adams said.
Based in Sydney with 4,000-employees, Canva said it has more than 140 million monthly active users in over 190 countries. Canva earned $1.7 billion in annual revenue last year, and it is profitable. One competitor is software company Adobe, which has been around since 1982 and brought in more than $17 billion in revenue last year. Adobe has also been adding generative AI features to its design products.
Canva plans to create more tools catering to enterprise businesses
One concern about the new generative AI tools, in general, is their limitations in language offerings. So far, Canva's most popular feature has been its "Magic Translate," which can translate copy into 100 different languages including English, Japanese, Hindi, or Indonesian. The feature has been particularly helpful to big organizations since they need to scale campaigns globally, Adams said.
Canva plans on ramping up products for enterprise businesses, as 85% of Fortune 500 companies use its software in part for marketing purposes, according to the company, and their demand for visual content is growing.
How will generative AI transform office work?
With generative AI being so novel, and the technology directly affecting office workers, there's a lot of concern about how it will change jobs.
In response to this worry, Adams said these tools will let workers explore. He explains it like this: With these tools, you can try out different ways of saying the same thing and perfect that sentence or that paragraph, or you can find the right image that you need for your presentation rather than just the one that you can drag out of a digital library. "So instead of just going with one idea, workers can try out more ideas and arrive at the right solution rather than the most convenient solution," he said.
"Humans are still the center of the creative process," he added. "… They're the ones who are interacting with the AI and getting out of it what they need."
>>> Read full article>>>
Copyright for syndicated content belongs to the linked Source : Quartz – https://qz.com/canva-releases-ai-tools-to-automate-boring-design-tasks-1850904612