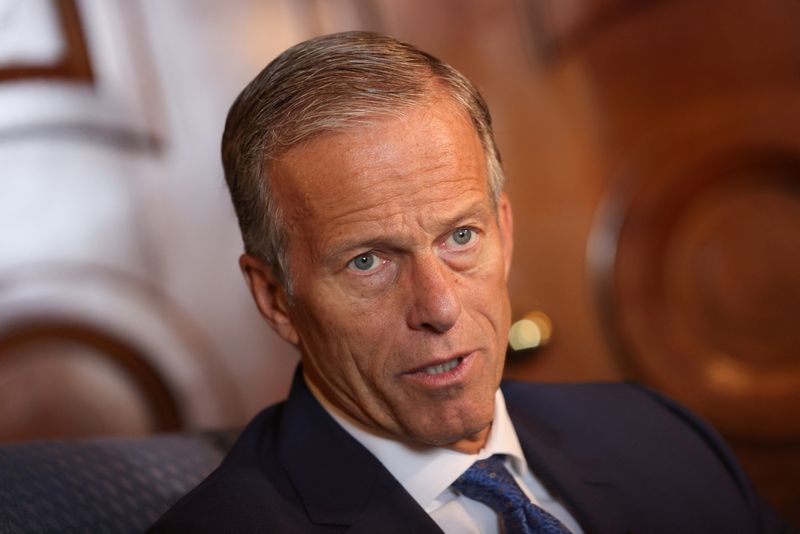 © Reuters. FILE PHOTO: U.S. Senator John Thune (R-SD) speaks during an interview with Reuters in his office at the U.S. Capitol in Washington, U.S., September 13, 2023. REUTERS/Julia Nikhinson

By David Morgan and Richard Cowan
WASHINGTON (Reuters) – Republicans in the U.S. Congress will have to agree on a short-term funding measure soon if they are to avoid a government shutdown and meet their own goal of passing 12 separate appropriations bills, the No. 2 Senate Republican said on Wednesday.
That will be particularly challenging as some hard-line House Republicans are vowing to withhold votes for a stopgap, known as a "continuing resolution," without which the government could shutdown beginning in October.
"This is a divided government. It's certainly challenging to get anything done, let alone funding the government, which in many cases is not all that popular, especially right now, with the American people," Senator John Thune told Reuters in an interview at his office in the U.S. Capitol.
The Democratic-led Senate and Republican-controlled House of Representatives have until the end of this month to come up with a spending measure that can keep federal agencies afloat in fiscal 2024, after current funding expires.
"We've got to get past the Sept. 30 deadline and buy a little bit of time," he said. "We've got a short runway to do this."
He spoke to Reuters as Republican party infighting stymied efforts to move forward on an $886 billion defense appropriations package in the House, where a group of hard-line conservatives are pressing to cut 2024 spending back to a 2022 level of $1.47 trillion.
That would be $120 billion below the spending level agreed to by Republican House Speaker Kevin McCarthy and Democratic President Joe Biden in May, which the Senate is now pursuing on a bipartisan basis.
Republicans in both chambers of Congress hope to enact 12 full appropriations bills to fund the federal government in 2024, rather than the sprawling single "omnibus" bills used the last several years. Proponents of the bill-by-bill approach say it allows them to more closely control spending.
The Senate is only now beginning to move forward on its first spending legislation, which the House managed to pass only one bill before Republican infighting consumed the process.
After passing their own bills, the two chambers would have to negotiate compromise legislation that President Joe Biden could sign into law.
Thune said the Senate is giving the 222-212 Republican House majority room to maneuver on spending for now, but warned that failure to make progress soon could force Congress to resort to an omnibus bill that Republicans have vowed to avoid.
"Clearly it is a challenge. They've got a very thin majority," the South Dakota Republican said.
EYES ON 2024 ELECTIONS
Thune said it will be important for Senate Republicans to notch some wins before the 2024 elections, which he said could determine control of the chamber for the remainder of this decade.
Democrats and independents who caucus with them currently hold 52 of the Senate's 100 seats, meaning Republicans would need to flip three seats to gain the majority. Democratic Senate incumbents are vulnerable in as many as eight states next year, while Republicans are not at risk.
"We have a really terrific map, which we don't have all the time and we don't have in '26 and '28," Thune told Reuters. "If we don't execute this time around, this is really kind of a decade-long proposition. We really have to get it right."
>>> Read full article>>>
Copyright for syndicated content belongs to the linked Source : Investing.com – https://www.investing.com/news/economy/senior-us-senate-republican-thune-says-stopgap-bill-will-be-needed-to-avoid-shutdown-3173955