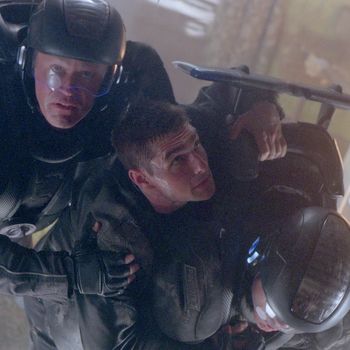 Minority Report.
Photo: 20th Century Fox
This post will be updated frequently as movies enter and leave the service. *New titles are indicated with an asterisk.
In 2021, CBS All Access rebranded with the name Paramount+, reflecting the history of the legendary film and TV company with that nifty little mathematical sign that all the streaming companies seem to love these days. The name Paramount brings a deep catalogue of feature films, and the streaming service also includes titles from the Miramax and MGM libraries. They have also added a more robust original selection than at launch to complement the service's classics like Top Gun, the Mission: Impossible series and Grease.
For now, Paramount+ can't compare to the depth of a catalogue like Max's or the award-winning original works at other streamers, but it has a solid library with at least 30 films you should see.
Year: 2002
Runtime: 2h 25m
Director: Steven Spielberg
One of Steven Spielberg's best modern movies is this adaptation of a Philip K. Dick story about a future in which crime can be predicted before it happens. Tom Cruise stars as a man who is convicted of a crime he has no intent of committing in a fantastic vision of a future in which the systems designed to stop crime have been corrupted. It's timely and probably always will be.
Year: 2001
Runtime: 2h 25m
Director: Steven Spielberg
The most famous director of all time picked up the final project of Stanley Kubrick and completed it, resulting in one of the most divisive films of his career. Two decades later, it feels like most people have come around to recognize A.I. as a masterpiece. Based on a 1969 short story, it's about an android (Haley Joel Osment) and the journey he takes to find himself. It's really about humanity and it contains some of Spielberg's most striking imagery ever.
Year: 2018
Runtime: 1h 54m
Director: Alex Garland
Annihilation rules. Natalie Portman stars as the leader of a group of women who are assigned to investigate a phenomenon known as The Shimmer. As they enter this mutated reality, the world around them breaks and shifts, leading to one of the most terrifying and moving sci-fi/horror movies of its generation. Visually striking, this one also has one of the best sound designs of recent years. It's unforgettable, and there's some fantastic writing on it out there for you to enjoy after you watch.
Year: 2016
Runtime: 1h 56m
Director: Denis Villeneuve
The beloved French director's best film remains his adaptation of "Story of Your Life" by Ted Chiang, a tale of alien invasion that's really more about the people on Earth than the interplanetary visitors. Amy Adams gives one of the best performances of her career as a linguist tasked with communicating with the aliens.
Year: 1984
Runtime: 1h 45m
Director: Martin Brest
It's hard to explain to people too young to experience it how big a star Eddie Murphy was in 1984 when his Axel Foley ruled the world. Murphy's wit and charm were put to perfect use in Beverly Hills Cop that produced two inferior sequels, and both happen to also be on Paramount Plus.
Year: 1999
Runtime: 1h 21m
Director: Daniel Myrick, Eduardo Sanchez
It's hard to explain to young folks how much of a phenomenon this movie was when it came out in the summer of 1999. Made on almost no budget, it was a giant hit, in part because of its viral marketing campaign that convinced some people it was real. It's just a great horror movie, as effective today as it was almost a quarter-century ago.
Year: 1974
Runtime: 2h 10m
Director: Roman Polanski
Forget it Jake, it's Chinatown. One of the best movies of the '70s, this Best Picture nominee (and Best Screenplay winner) tells the story of Jake Gittes, played unforgettably by Jack Nicholson, as he investigates an adulterer and finds something much more insidious under the surface of Los Angeles. It's a must-see, as important as almost any film from its era.
Year: 2004
Runtime: 1h 59m
Director: Michael Mann
Tom Cruise gives one of his most fascinating performances as Vincent, the passenger to Jamie Foxx's L.A. cab driver on a very fateful night. It turns out that Vincent is hitman and he needs Foxx's character to drive him on a killing spree in this tense, gorgeously-shot thriller from the masterful craftsman Michael Mann.
Year: 2022
Runtime: 2h 19m
Director: J.D. Dillard
The proximity to another little movie about pilots called Top Gun: Maverick likely hurt the bottom line of this excellent, old-fashioned drama based on a true story. The excellent Jonathan Majors plays Jesse Brown, the first Black aviator in Navy history, and Maverick star Glen Powell plays his co-pilot and friend Tom Hudner. Both young future stars are excellent in a film that viewers can now find at home.
Year: 1999
Runtime: 2h 38m
Director: Stanley Kubrick
Stanley Kubrick's final film was a controversial one when it was released in 1999 but has been recognized in the quarter-century since as one of the master's best. Tom Cruise does some of the best work of his career as a man who spirals into a seedy underworld of sex and betrayal in this mesmerizing drama.
Year: 2020
Runtime: 1h 38m
Director: Jiayan "Jenny" Shi
Jiayan Shi directed and produced this heartbreaking documentary about the disappearance and death of Yingying Zhang in 2017. Shi has unique access to the story in that she knew Yingying, and so her film has an incredible you-are-there quality as Shi captures the investigation and grief that would emerge from this horrific crime. Paramount+ deserves credit for bringing smaller projects like this to their subscribers, ones that other major streamers might ignore.
Year: 2008
Runtime: 1h 53m
Director: Ben Affleck
Ben Affleck's adaptation of a great Dennis Lehane thriller stars the actor/director's brother as a Boston detective investigating the disappearance of a little girl. Affleck's greatest gift as a filmmaker is with ensemble and this is arguably his best with Casey, Morgan Freeman, Ed Harris, Michelle Monaghan and the Oscar-nominated Amy Ryan filling out an amazing cast in a riveting thriller. It's great.
Year: 2014
Runtime: 2h 49m
Director: Christopher Nolan
No one else makes movies like Christopher Nolan, a man who took his superhero success and used it to get gigantic budgets to bring his wildest dreams to the big screen. Who else could make this sprawling, emotional, complicated film about an astronaut (Matthew McConaughey) searching for a new home for humanity? It's divisive among some Nolan fans for its deep emotions, but those who love it really love it.
Year: 2002
Runtime: 1h 25m
Director: Jeff Tremaine
Jackass Forever helped 2022 start with a bang. Now you can go back and watch the whole series exclusively on Paramount+ right now! (Even the "alternate" ones like Jackass 3.5). Go back to the heyday of Johnny Knoxville, Steve-O, and the rest of the dangerous idiots. These movies are often derided as being dumb but they're a glorious, infectious kind of dumb that wants nothing more than to make you laugh.
Year: 1990
Runtime: 1h 52m
Director: Adrian Lyne
Adrian Lyne's 1990 horror film has developed an increasingly vocal fan base in the three decades since its release (helped in part by a horrible remake in 2020 that reminded everyone how much better the original was.) Tim Robbins stars as Jacob, a man who starts having increasingly terrifying visions and hallucinations, many of them related to his time in Vietnam. A stunning journey into Hell, it's also an anti-war film that's given weight by Robbins's genuine, in-the-moment performance.
Year: 2022
Runtime: 1h 52m
Director: Aaron Nee, Adam Nee
With echoes of beloved rom-coms like African Queen and Romancing the Stone, this film truly felt like an anomaly in 2022, and yet it turned into a pretty big hit at the theater. It's already on streaming services, and it's a great choice if you're looking for some escapism tonight. Travel to the middle of nowhere with a romance novel writer (Sandra Bullock) and the cover model (Channing Tatum) who tries to save the day.
Year: 1996-present
Runtime: Varies
Director: Various
The whole series is finally here! For some reason, parts 1 to 3 and parts 4 to 6 have alternated residence on a lot of streaming services, but Paramount+ currently hosts the entire thing from De Palma's first movie to Fallout. While we wait for Mission: Impossible 7, revisit the whole arc of the saga of Ethan Hunt to date.
Year: 2007
Runtime: 2h 2m
Director: Joel Coen, Ethan Coen
Joel and Ethan Coen's adaptation of Cormac McCarthy's crime novel is one of their best movies, a flick that won them three Oscars – Directing, Writing, and Best Picture of arguably the best year of the '00s. If you haven't seen it since 2007, you may be surprised at how well it's held up. The exact same film could be released today and it would have the same cultural impact. It feels like that will be the case for decades to come.
Year: 2008
Runtime: 1h 52m
Director: David Gordon Green
Seth Rogen gives one of his best performances as Dale Denton, an average guy who just wants to get high. He visits his dealer (played perfectly by James Franco) on the wrong night as the pair cross paths with hitmen and a police officer on the wrong side of the law. This is an incredibly funny movie, and you don't need to be high to love it.
Year: 2018
Runtime: 1h 30m
Director: John Krasinski
Who could have possibly guessed that Jim from The Office would be behind one of the most successful horror films of the '10s? You've probably already seen this story of a world in which silence is the only way to survive, but it's worth another look to marvel at its tight, taut filmmaking and a stellar performance from Emily Blunt. Plus, Paramount+ recently added the sequel, so: double feature time!
Year: 2005
Runtime: 1h 25m
Director: Wes Craven
With one of his last great movies, the master of horror Wes Craven proved he could also do thrills without supernatural monsters. This is a film that Alfred Hitchcock would have loved, the story of an average woman (Rachel McAdams) terrorized by the guy in the seat next to her on a red-eye flight to Miami. Cillian Murphy is chilling in this memorable, tight little genre movie.
Year: 2002
Runtime: 1h 55m
Director: Gore Verbinski
Gore Verbinski broke the pattern in which remakes of Asian horror films are usually a total waste of time with this update of the incredible Ringu. Instead of just repeating the beats of a story of a VHS tape that kills people after seven days, Verbinski made his own film and grounded it with a great central performance by Naomi Watts.
Year: 2002
Runtime: 1h 57m
Director: Sam Mendes
Tom Hanks doesn't always play the nice guy. In Sam Mendes' adaptation of the Max Allan Collins graphic novel, America's dad plays a mob enforcer seeking revenge. What's most memorable about this 2002 film is Mendes' remarkable attention to period detail. It's a gorgeous film just to live in for a couple hours. Don't do this one on your phone.
Year: 1987
Runtime: 1h 40m
Director: Paul Michael Hauser
One of Ah-nuld's best '80s action movies is this loose adaptation of a novel by Stephen King (under the name Richard Bachman). The action star plays a contestant on a game show that uses convicts as victims of professional killers. Ahead of its time in the way it would address growing bloodlust on television and our national obsession with reality TV, this one holds up.
Year: 2019
Runtime: 1h 24m
Director: Rose Glass
Rose Glass's terrifying horror film is one of the best movies of 2021 and it's already on Paramount+. Reminiscent of psychological nightmares of the '70s like Repulsion and Rosemary's Baby, this is the tale of a hospice nurse named Maud (a fearless performance from Morfydd Clark) who becomes obsessed with saving the soul of one of her patients (Jennifer Ehle). It's unforgettable.
Year: 2010
Runtime: 2h 18m
Director: Martin Scorsese
In 2010, Martin Scorsese released his adaptation of Dennis Lehane's best novel, the story of a U.S. Marshal (Leonardo DiCaprio) who investigates a missing patient at a legendary mental hospital. Scorsese is in full command of his skill as a craftsman in this riveting thriller that also co-stars Mark Ruffalo, Ben Kingsley, and Michelle Williams. It's one of the most underrated films of the century.
Year: 2016
Runtime: 2h 41m
Director: Martin Scorsese
The Oscar-winning legend directed one of his most personal films in this searing examination of unshakeable faith based on the 1966 novel of the same name by Shusaku Endo. Andrew Garfield stars as a 17th-century Jesuit priest who goes from Portugal to Japan to find his missing mentor and ends up being tortured for his beliefs. How long can a man hold onto his faith? This is a gorgeous, moving drama with Garfield's best performance to date.
Year: 2022
Runtime: 1h 52m
Director: Parker Finn
Paramount has been regularly funneling some of their biggest theatrical hits to their streaming service, including this film that was in theaters less than three months ago, and made a fortune worldwide (over $200 million). One of the biggest commercial and critical horror hits of the year, Smile is about a therapist who discovers something supernatural stalking her patients. It will get under your skin.
Year: 2010
Runtime: 2h
Director: David Fincher
One of the best movies of the 2010s has returned to Paramount after a brief hiatus to remind people how wildly far ahead of its time this movie was when it was released. With a razor-sharp screenplay by Aaron Sorkin and some of the best direction of David Fincher's career, this is a flawless movie, one that resonates even more now in the era of constant internet than it did thirteen years ago.
Year: 1986
Runtime: 1h 53m
Director: Jonathan Demme
Jonathan Demme was a master of tonal balancing, finding a way to perfectly blend the comedy and the dread in this story of an average man caught up in a criminal's web. Charlie (Jeff Daniels) is a milquetoast banker who goes on a wild ride with a girl named Lulu (Melanie Griffith), but everything changes when Lulu's ex (an unforgettable Ray Liotta) enters the picture.
Year: 2007
Runtime: 2h 38m
Director: Paul Thomas Anderson
One of the best films of the '00s, Paul Thomas Anderson's adaptation of Upton Sinclair's Oil! won Daniel Day-Lewis his second Oscar as the unforgettable Daniel Plainview. As detailed and epic as great fiction, Anderson's movie is one of the most acclaimed of its era, a film in which it's hard to find a single flaw. Even if you think you've seen it enough, watch it again. You'll find a new reason to admire it.
Year: 1997
Runtime: 3h 14m
Director: James Cameron
More than just a blockbuster, this Best Picture winner was a legitimate cultural phenomenon, staying at the top of the box office charts for months. There was a point when it felt like not only had everyone seen the story of Jack (Leonardo DiCaprio) and Rose (Kate Winslet), but most people had seen it twice. History has kind of reduced this epic to its quotable scenes and earworm theme song, but it's a better movie than you remember, a great example of James Cameron's truly robust filmmaking style.
Year: 1986
Runtime: 1h 49m
Director: Tony Scott
Audiences were reminded how much they love Tom Cruise's Maverick with the blockbuster sequel to this film that dominated the entirety of Summer 2022. Why not go back to revisit the movie that started it all on Paramount Plus? Tom Cruise's career changed forever with the massive success of this movie about a hotshot pilot, his romantic partner, and his rival. It's SO very '80s but that's kind of its charm now.
Year: 2022
Runtime: 2h 10m
Director: Joseph Kosinski
It's the movie that saved movies last year! The truth is that Paramount wanted to drop this long-awaited sequel on a streamer during the pandemic, but Tom Cruise knew it was the kind of thing that should be appreciated in a theater. He bet on himself and the result is arguably the biggest hit of his career, a movie that made a fortune and seems primed to win Oscars in a couple months.
Year: 2013
Runtime: 3h
Director: Martin Scorsese
Leonardo DiCaprio should have won the Oscar for his amazing performance as Jordan Belfort, the financial criminal that rocked Wall Street and shocked audiences in one of Scorsese's best late films. Arguments over whether or not this film glorifies a "bad guy" have become prominent—and could only really be made by people who haven't actually watched it. Most of all, it's a shockingly robust film, filmed with more energy in a few minutes than most flicks have in their entire runtime.
If you subscribe to a service through our links, Vulture may earn an affiliate commission.
>>> Read full article>>>
Copyright for syndicated content belongs to the linked Source : Vulture – http://www.vulture.com/article/best-movies-paramount-plus-streaming.html