By
Brian Tallerico,
a film critic with over 20 years of experience covering movies and TV.
He is the president of the Chicago Film Critics Association, the co-producer of the Chicago Critics Film Festival, and managing editor of RogerEbert.com.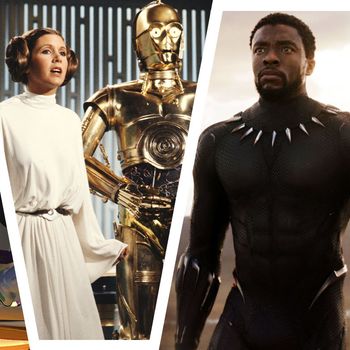 Toy Story, Star Wars, and Black Panther.
Photo: PictureLux/The Hollywood Archive/Alamy Stock Photo/Collection Christobel/Lucasfilm/Twentieth Century Fox Film Corporation/Marvel Studios
This article is updated frequently as titles are added to Disney+. *New titles are indicated with an asterisk.
The catalog at Disney+ is one of the deepest of any streaming service. That's what happens when you're owned by the company that owns pretty much everything. Since the merger between Disney and Fox, the mega-company now hosts brands so big that they get their own section on the site like Star Wars and the Marvel Cinematic Universe. Add in the entire history of the most famous animation studio in the world and you have a catalog that's virtually impossible to boil down to a manageable list…but we're going to try.
You probably know what's on Disney+ — pretty much everything your kids want to watch — but maybe you forgot about the full range of what they have to offer. Below you'll find an array of styles and eras from the Mouse House, limited to 30 entries, but we're restricting ourselves to one Star Wars film as a representative for all of them, and trying to spread the rest of the entries out among Pixar, Disney animation, Disney live-action, and stuff that might otherwise fall through the cracks. That's what we're here for.
Year: 1991
Runtime: 1h 32m
Director: Gary Trousdale, Kirk Wise
A formative chapter in the history of Disney, this 1991 blockbuster became known as the first animated feature to be nominated for Best Picture at the Oscars. It should have won. It's a gorgeous movie, a moving retelling of a classic legend with beautiful animation and unforgettable original songs. There's a passion to the artistry here that's too often lacking from Disney movies, and it's one of the main reasons it's one of the biggest ever.
Year: 2017
Runtime: 1h 44m
Director: Lee Unkrich
What a beautiful movie. If you're not moved by the end of Coco, it's hard to believe you're moved by any animated film. This is the tale of Miguel, a 12-year-old who accidentally ends up in the Land of the Dead, and he has to find his great-great-grandfather to get the help needed to return home. Music plays a crucial role in Coco, a film that's also about creative expression and how we use art to connect across the generations.
Year: 2023
Runtime: 1h 46m
Director: Peter Sohn
It's nice that Disney continues to get their biggest hits to their streaming service more quickly than any of the competition. Elemental was still in theaters when it landed on Disney+, and has been a surprise hit for the company. After a weak opening, this movie had legs, proving that word of mouth was strong on Pixar's biggest hit in years. See what all the buzz was about.
Year: 2021
Runtime: 1h 52m
Director: Jared Bush, Byron Howard
Released in theaters during the pandemic, this Oscar winner for Best Animated Feature didn't really take off culturally until it dropped on Disney+ on Christmas Eve. From that point on, Encanto became enormous, charting original songs all over the world and becoming one of Disney's biggest modern films. It's easy to see why audiences were charmed by this culturally vibrant, vibrantly colorful artistic expression.
Year: 2013
Runtime: 1h 45m
Director: Chris Buck, Jennifer Lee
When people talk about the major event movies in the history of Disney, the tale of Anna & Elsa has to be a major part of the conversation. More than just an animated blockbuster, Frozen became a legitimate phenomenon, already sparking a sequel, toys, games, theme park rides, and a Broadway musical. It is quite simply one of the most beloved animated films ever made.
Year: 2015
Runtime: 1h 35m
Director: Pete Docter
One of Pixar's best films ever gets viewers into the mind of a teen girl named Riley (Kaitlyn Dias) and the emotions that live there, centered by Joy (Amy Poehler) and Sadness (Phyllis Smith), who end up on a journey through the young girl's inner being. Visually striking and perfectly voiced, there's also a theme here that's important for young viewers about how life takes a blend of happiness and misery. A sequel will be released in 2024, and it has a high bar to reach to match the original.
Year: 1994
Runtime: 1h 33m
Director: Roger Allers, Rob Minkoff
A key part of the Disney Renaissance, this animated classic is one of the most beloved Disney films in the history of the company. It's one of the Disney movies that became more than just a movie, inspiring sequels, theme park attractions, and even a massive hit Broadway show. People keep returning to the story of Simba as it gets passed down from generation to generation, probably earning a new fan somewhere in the world every single day.
Year: 2016
Runtime: 1h 51m
Director: John Musker, Ron Clements
Doesn't it feel like this movie grows a little more popular every year? Sure, it was a hit when it came out, but there's a kid somewhere singing "How Far I'll Go" right now, and it feels like it has to be one of the most rewatched modern Disney movies for a reason. It's visually striking, thematically resonant, and perfectly voiced. It also doesn't hurt to have memorable tunes that keep kids and their parents coming back to hear them again.
Year: 1993
Runtime: 1h 19m
Director: Henry Selick
It doesn't have to be Halloween or Christmas to enjoy the story of Jack Skellington, brought unforgettably to life by the great Henry Selick and his buddy Tim Burton. This inventive, creative, original film has grown in popularity with every passing generation as parents pass it down to their kids. It's also held up better than most family films of its era, largely because of how much it trusts kids to be able to handle darker themes and its unforgettable visuals.
Year: 1937
Runtime: 1h 27m
Director: David Hand
The one that started it all has to be on the list, right? There's no Disney+ without Snow White, the first full-length animated feature for the little company co-founded by Mr. Walt Disney. There's a reason people keep returning to the tale of Snow White and her friends. And it really shaped the legacy of the entire Disney brand for generations to come. Sure, it might look a little dated to modern kids, but even they will eventually give in to its magic.
Year: 1995
Runtime: 1h 24m
Director: John Lasseter
As Snow White is to Disney, Woody & Buzz are to Pixar. The iconic characters took the world by storm with their first film, the true breakthrough for Pixar, and a movie that changed modern animation forever. Every kid on Earth dreamed at some point about what would happen if their toys came to life, and the geniuses at Pixar turned that idea into movie history. All four films, of course, are on Disney+, and they're all worth revisiting.
Year: 2008
Runtime: 1h 39m
Director: Andrew Stanton
As creatively original as any mainstream animated film ever made, WALL-E is the tale of a lonely robot, one of the few remaining on an Earth that has become a massive garbage dump. When he falls in love with a probe robot named EVE, he ends up aboard a spaceship speeding across the galaxy. Visually inventive and brilliantly written, this is easily one of Pixar's best.
Year: 2009
Runtime: 2h 42m
Director: James Cameron
The world is about to become Pandora again as the excellent Avatar: The Way of Water opens in theaters and makes a bajillion dollars (before the third movie comes out in just about 12 months!) It really helps the new adventure to be familiar with the arc of Jake Sully and the Na'vi — so take the time to revisit James Cameron's stunning vision on Disney+.
Year: 2022
Runtime: 3h 15m
Director: James Cameron
Are we still talking about the cultural footprint of Avatar after the 2022 sequel made over $1 billion? Never doubt James Cameron. The director's long-delayed return to Pandora is finally on Disney+, and it should be noted that it looks fantastic, clearly being given a more-detailed 4K video treatment than a lot of streaming offerings. Cameron is clearly never leaving Pandora — he's working multiple sequels set there — so you better get to know this world with repeat viewings on your favorite streaming service.
Year: 2012
Runtime: 2h 25m
Director: Joss Whedon
There were hit MCU movies before Joss Whedon's mega-blockbuster but this is really the first "event movie" in the franchise, making it clear how much these films were going to build to these tentpoles every few years. It's still a remarkably entertaining action flick, one that knows not to take itself too seriously, and one that really defined the MCU (and modern blockbusters) for the next generation.
Year: 2018
Runtime: 2h 18m
Director: Ryan Coogler
Is this the best Marvel movie? It's certainly in the conversation. Why? Well, it's one of the few times that it feels like a director was given creative freedom in a system that often makes movies that look exactly the same. Black Panther has its own unique personality and energy, thanks largely to Ryan Coogler's incredible craftsmanship and passion, but also because of the great cast, including the dearly-missed Chadwick Boseman.
Year: 2014
Runtime: 2h 18m
Director: Anthony Russo, Joe Russo
One of the best Marvel movies ever made, the second Captain America flick deconstructed the patriotism of the first movie and the character that gave it a name. The result is a film that plays like a '70s paranoia thriller, complete with a legend of that era in a crucial role: Robert Redford. This is arguably the leanest Marvel movie, one that never drags and contains some of the company's most accomplished action sequences.
Year: 2023
Runtime: 2h 32m
Director: James Gunn
One of the most well-received films in the Marvel Cinematic Universe (and of Summer 2023) is already on Disney+, which means fans of Starlord, Gamora, Rocket Racoon, Drax, and Groot can take in the entire trilogy. It really is one of the best MCU accomplishments, a series of films that feel like one piece of comedy, action, and drama. The GOTG may return, but they likely won't be the same. They'll be missed.
Year: 2023
Runtime: 2h 4m
Director: Justin Simien
They keep trying to make films based on one of the best Disney Parks rides a thing. This attempt to replace the Eddie Murphy version (also on Disney+) is admirable largely because of how committed LaKeith Stanfield is to the entire production. Most of all, it's on this list because it's spooky season and this is the only way to currently watch what could be a whole-family endeavor this Halloween.
Year: 1981
Runtime: 1h 56m
Director: Steven Spielberg
After bouncing around the streamers, the adventures of Indiana Jones have finally exclusively settled on Disney+ just in time for the release of Indiana Jones and the Dial of Destiny. Catch up with the entire saga of Harrison Ford's beloved characters in the four other films while you wait for the 2023 sequel to join them. Of course, the first movie is still unequivocally the best of the bunch, one of the few films that could arguably be called perfect.
Year: 2008
Runtime: 2h 7m
Director: Jon Favreau
Is this the most influential modern blockbuster? It certainly changed the landscape by virtue of being the first film in the Marvel Cinematic Universe. But it's not just an "important" movie. It's still a wildly entertaining one too, anchored by a charming performance from Robert Downey Jr., whose work here really shaped everything about the MCU to come. Go back to the beginning and see where our modern superhero craze really became a cinematic weapon of mass destruction.
Year: 2017
Runtime: 1h 30m
Director: Brett Morgen
Don't forget about the dense and educational National Geographic section on Disney+, the highlight of which is this phenomenal documentary about the life and work of Jane Goodall. Director Brett Morgen received hundreds of hours of footage of Goodall working with the chimpanzees during his career, and he assembled this moving study of perseverance and blinding intelligence that you really must see.
Year: 2005
Runtime: 1h 39m
Director: Danny Boyle
The visually vibrant director of 28 Days Later and Slumdog Millionaire brings his skills to bear on a charming family film about a couple of kids who find a million pounds in stolen cash but realize that it's about to become useless as their country adopts the Euro — so they have to spend it! This is a fun and sweet movie that is probably one of the lowest-grossing on Disney+, so you should give it some love.
Year: 1979
Runtime: 1h 35m
Director: James Frawley
Consider this entry a placeholder for the entire film legacy of the Muppets that lives on Disney+, although the first movie is probably still the best. Produced while The Muppet Show was still on the air, it's a wonderful distillation of what people love about Kermit, Ms. Piggy, Fozzie Bear, Gonzo, and the rest of the gang. It's got great star cameos and some of the best movie music ever, especially the timeless "Rainbow Connection."
Year: 2004
Runtime: 2h 11m
Director: Jon Turteltaub
The world of National Treasure is about to return with a third film and a new series for Disney+. So it's time to catch up on the first movie about Benjamin Franklin Gates (Nicolas Cage), a historian who ends up on his own Indiana Jones adventure when he discovers there's a map on the back of the Declaration of Independence.
Year: 2016
Runtime: 1h 47m
Director: David Lowery
When people talk about the dire lack of creativity in the live-action adaptations of classic animated films like Beauty and the Beast and The Lion King, they shouldn't forget about what is easily the best of this subgenre. The director of A Ghost Story and The Green Knight adapted the 1977 animated musical of the same name into a gorgeous fable about an impossible friendship between a boy and his dragon. It's a beautiful movie.
Year: 2003
Runtime: 2h 25m
Director: Gore Verbinski
The entire POTC franchise is on Disney+, just waiting for you to put on a pirate outfit and start a marathon. You could probably stop after the Verbinski-directed original trilogy, as all three are pretty entertaining. Of course, the first film, subtitled The Curse of the Black Pearl, is probably still the fan favorite for the way it introduced the world to Jack Sparrow, but the second movie, Dead Man's Chest, is arguably the most entertaining of the bunch.
Year: 1987
Runtime: 1h 38m
Director: Rob Reiner
One of the most beloved fantasy films of all time, this adaptation of the book of the same name by William Goldman was an instant hit. Regularly appearing on lists of the funniest and most romantic films ever made, the tale of Westley and the Princess Buttercup was even inducted into the National Film Registry in 2016. It's a classic, a movie that works well for all ages because of its big heart, sharp wit, and creative soul.
Year: 1977
Runtime: 2h 5m
Director: George Lucas
Consider this entry a placeholder for your favorite Star Wars movies, all of which have an exclusive home on Disney+. Of course, the original is still the favorite for a lot of people (it's that or The Empire Strikes Back), the movie that changed, well, everything. A sci-fi blockbuster like no other, Star Wars became an industry with the story of a boy fated to save the universe from pure evil.
Year: 2021
Runtime: 1h 57m
Director: Ahmir "Questlove" Thompson
The 2022 Oscar winner for Best Documentary is a joyous study of creative expression in the 1969 Harlem Cultural Festival. While Woodstock was unfolding at the same time, remarkable artists assembled in a park in Harlem for a six-day series of concerts. Questlove assembles the footage brilliantly, including incredible performances from Stevie Wonder, Nina Simone, Mavis Staples, Gladys Knight & the Pips, and many more.
Year: 1988
Runtime: 1h 43m
Director: Robert Zemeckis
Who doesn't love this movie? A breakthrough in live-action/animation hybrid, it's just a wildly entertaining action-comedy, anchored by not just its incredible effects but a perfect performance from the great Bob Hoskins. The actor plays a private investigator who is brought in when a toon named Roger Rabbit has been accused of murder. Incorporating elements of noir with the history of animation resulted in one of the biggest movies of its era.
If you subscribe to a service through our links, Vulture may earn an affiliate commission.
The 30 Best Movies on Disney+ Right Now
>>> Read full article>>>
Copyright for syndicated content belongs to the linked Source : Vulture – http://www.vulture.com/article/best-movies-on-disney-plus.html