California senator Dianne Feinstein – known for being a vocal advocate of gun control measures – has died aged 90.
The Democratic Party politician, who tried to find common ground with Republicans over three decades in the Senate, died despite planning to retire at the end of her term.
She was the oldest member of the chamber and had faced calls to resign over concerns about her health.
Feinstein was also the longest-serving female senator, elected in 1992.
She died last night at her home in Washington, D.C. according to a statement from her office issued on Friday.
"Senator Feinstein never backed away from a fight for what was just and right," the statement said.
"There are few women who can be called senator, chairman, mayor, wife, mom and grandmother.
"Senator Feinstein was a force of nature who made an incredible impact on our country and her home state.
"She left a legacy that is undeniable and extraordinary."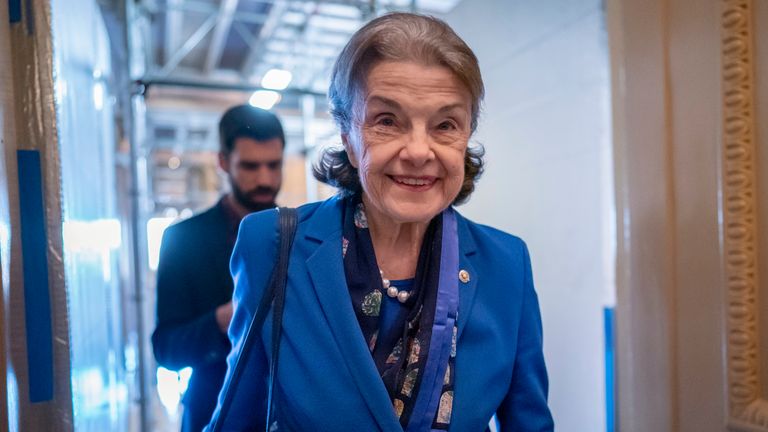 Image:
Pic: AP
President Joe Biden hailed Feinstein as a "pioneering American" and a "trailblazer" after learning of her death.
He described her as a "passionate defender of civil liberties" and a "strong voice for national security policies that keep us safe while honouring our values" when she announced her retirement.
"I've served with more U.S. Senators than just about anyone," Mr Biden said.
"I can honestly say that Dianne Feinstein is one of the very best."
In March, Feinstein's spokesperson said she was dealing with a "health matter" after she missed votes at the end of February.
She cast her final vote in the first of three votes at the Senate on Thursday, hours before her death.
The politician is recorded as not having taken part in the remaining two ballots.
Image:
Feinstein seen in the US Capitol on 12 September Pic: AP
Feinstein championed the assault weapons ban signed into law by then-President Bill Clinton in 1994.
She fought for restrictive laws after that ban expired a decade later.
Feinstein also served as chairwoman of the Senate Intelligence Committee, leading reviews of the CIA's detention and interrogation program created after the 9/11 terror attacks.
This was key to the introduction of laws banning the use of methods of torture.
'A person of unquestioned integrity'
Former Democratic presidential candidate Hillary Clinton said she was "deeply saddened" by her death.
The ex-First Lady posted on X, formerly known as Twitter: "[Feinstein] blazed trails for women in politics and found a life's calling in public service.
"I'll miss her greatly as a friend and colleague and send my condolences to all who loved her."
Twitter
This content is provided by Twitter, which may be using cookies and other technologies.
To show you this content, we need your permission to use cookies.
You can use the buttons below to amend your preferences to enable Twitter cookies or to allow those cookies just once.
You can change your settings at any time via the Privacy Options.
Unfortunately we have been unable to verify if you have consented to Twitter cookies.
To view this content you can use the button below to allow Twitter cookies for this session only.
Missouri Senator, Josh Hawley, described his late California counterpart as "tough, incredibly smart and effective".
He posted on X: "Always willing to work across the aisle to get things done, she was a person of unquestioned integrity."
Virginia congressman, Don Beyer, wrote on X: "Senator Feinstein's career spanned 50+ years of service to the Bay Area, California and the nation.
"She survived assassination attempts to become the longest-serving woman Senator, a pioneer for LGBT rights and civil liberties, and national leader on gun violence prevention. RIP."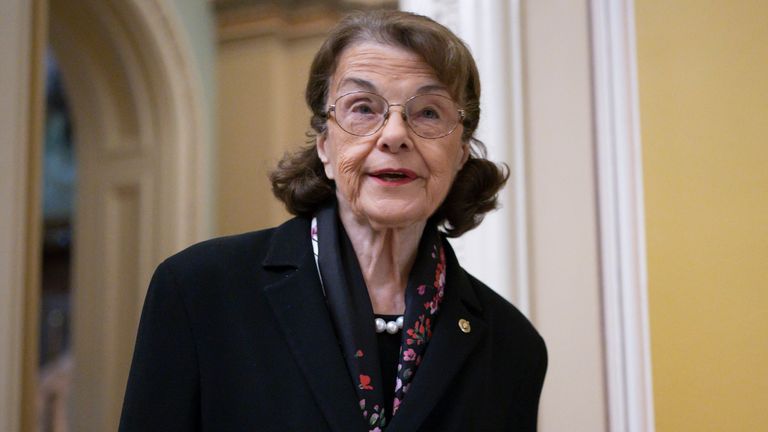 Image:
Pic: AP
Central Florida congressman, Maxwell Frost, praised her as a "champion for gun violence prevention that broke barriers at all levels of government".
"We wouldn't have had an assault weapons ban if it wasn't for Senator Feinstein and due to her tireless work, we will win it back. May her memory be a blessing," he said.
And California Governor, Gavin Newsom, described Feinstein as a "political giant" and "powerful, trailblazing US senator", whose "tenacity was matched by her grace".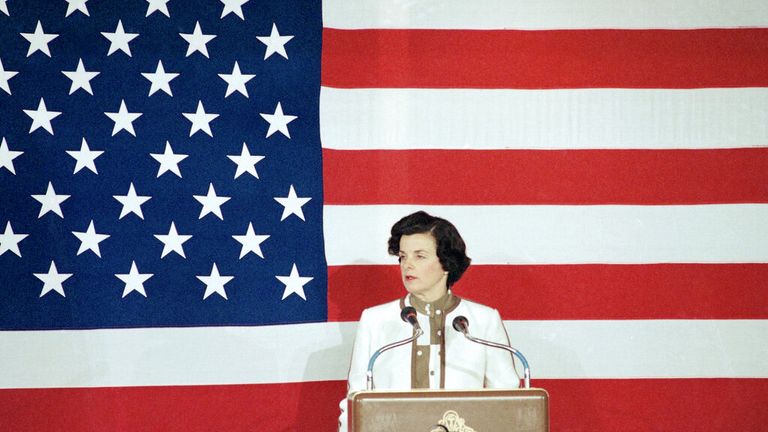 Image:
San Francisco Mayor Dianne Feinstein, pictured in 1984, 'broke down barriers and glass ceilings' Pic: AP
"She broke down barriers and glass ceilings but never lost her belief in the spirit of political cooperation," Newsom wrote on X.
"There is simply nobody who possessed the strength, gravitas and fierceness of Dianne Feinstein."
Fellow California Democrat, US representative Nancy Pelosi, said Feinstein's "extraordinary" career would inspire "countless young women and girls to pursue public service for generations to come".
Paving the way for women in politics
Feinstein was elected to the San Francisco Board of Supervisors in 1969 and became its first female president in 1978.
In the same year, Mayor George Moscone was gunned down at City Hall alongside Supervisor Harvey Milk – whose body was discovered by Feinstein.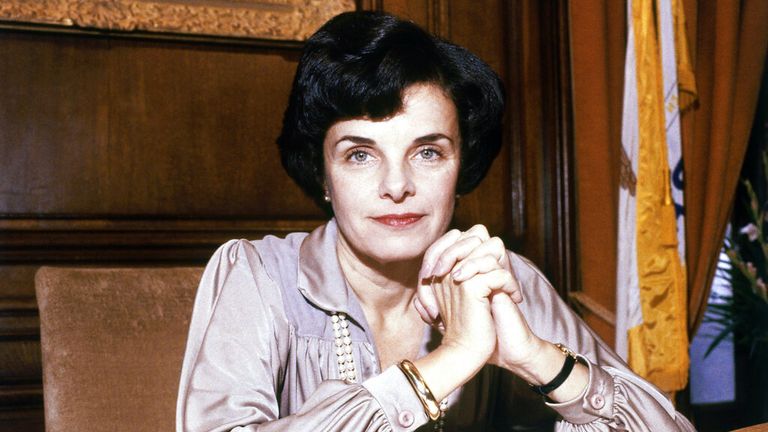 Image:
Dianne Feinstein was elected San Francisco mayor after the death of George Moscone in 1978
She became the state's first female mayor in the wake of the tragedy.
Feinstein was one of California's first two female senators, the first woman to head the Senate Intelligence Committee and the first to serve as the Judiciary committee's top Democrat.
"I recognise that women have had to fight for everything they have gotten, every right," she said in 2005.
Click to subscribe to the Sky News Daily wherever you get your podcasts
>>> Read full article>>>
Copyright for syndicated content belongs to the linked Source : SkyNews – https://news.sky.com/story/dianne-feinstein-longest-serving-us-female-senator-dies-12972423