SINGAPORE: Polling Day for Singapore's Presidential Election will be on Friday, Sep 1, if more than one candidate qualifies to run for the post.
Nomination Day is set for Aug 22.
The dates were announced by the Elections Department on Friday (Aug 11) after Prime Minister Lee Hsien Loong issued the writ of election.
As of Friday, four people have declared their intention to run.
Former Senior Minister Tharman Shanmugaratnam was the first to throw his hat into the ring when he announced his bid on Jun 8, followed by businessman George Goh and former GIC chief investment officer Ng Kok Song. Former presidential candidate Tan Kin Lian officially launched his campaign on Aug 11.
Applications to run in the Presidential Election opened on Jun 13.
To be nominated as a candidate, the person must deliver his nomination paper, along with the Certificate of Eligibility, the Community Certificate and the Political Donation Certificate.
Applications for the Certificate of Eligibility and the Community Certificate will close on Aug 17.
Each candidate must pay a deposit of S$40,500. This can be done before Nomination Day.
Nomination proceedings will take place at the People's Association auditorium at King George's Avenue between 11am and 12pm on Aug 22.
The returning officer is Mr Tan Meng Dui, chief executive officer of the Housing and Development Board.
If there is a contest, Polling Day on Sep 1 will be a public holiday.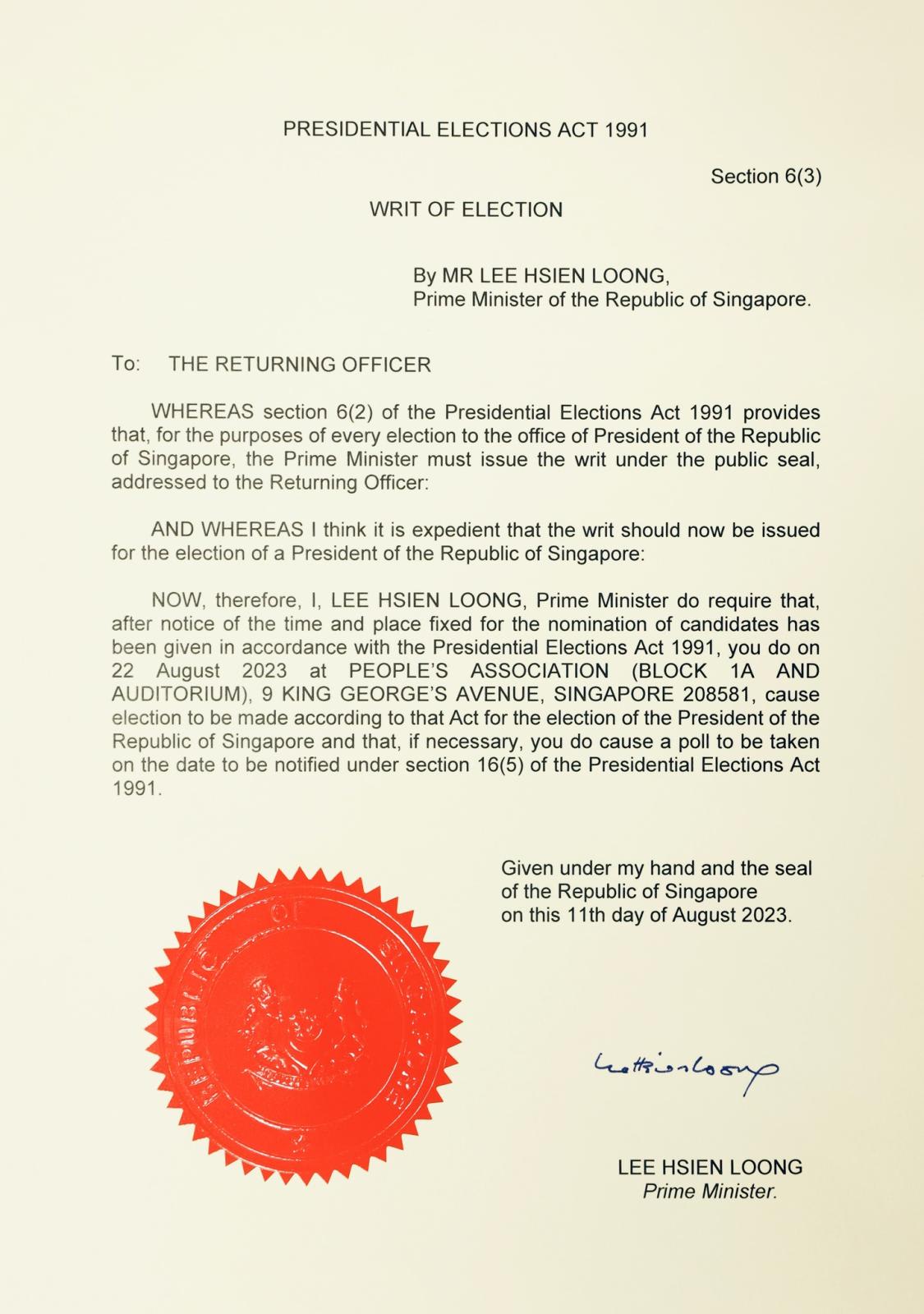 Singapore Prime Minister Lee Hsien Loong on Aug 11, 2023, issued the Writ of Election for the Presidential Election. (Image: Facebook/Lee Hsien Loong)
In a Facebook post on Friday, Prime Minister Lee Hsien Loong noted that a few people have already made known their intention to run for the presidency.
"The President represents all Singaporeans, and stands as a symbol of our unity and aspirations. Listen to what each candidate has to say, and assess them and their views carefully," wrote Mr Lee.
"I hope everyone will vote wisely for the best candidate for this important role."
>>> Read full article>>>
Copyright for syndicated content belongs to the linked Source : ChannelNewsAsia – https://www.channelnewsasia.com/singapore/singapore-presidential-election-polling-day-nomination-writ-3651756