Former President Donald Trump wants a New York judge to dismiss the criminal case charging him with falsifying business records relating to hush money payments, arguing prosecutors waited too long to bring their case.
"After a five year meandering, halting and roving investigation that entailed inexplicable and unconstitutional delay, the District Attorney's office filed a discombobulated package of politically motivated charges marred by legal defects," Trump's attorneys contended in a 57-page court filing Thursday.
The filing argues that Manhattan DA Alvin Bragg "charged President Trump more than six years after public reporting regarding the facts at issue, and almost five years after commencing a grand jury investigation and accessing substantially all of the relevant evidence."
"The delay has prejudiced President Trump, interfered with his ongoing presidential campaign, and violated his due process rights," contends the filing by Trump attorneys Todd Blanche and Susan Necheles, and the charges should therefore be dismissed.
A spokesperson for the DA's office said it will respond in court papers.
Trump was indicted this year on 34 felony counts of falsifying business records. Prosecutors said Trump "repeatedly and fraudulently falsified New York business records to conceal criminal conduct that hid damaging information from the voting public during the 2016 presidential election."
That information was hush money paid to two women who claimed to have had affairs with Trump. He has denied the affairs and any wrongdoing.
Michael Cohen, then Trump's lawyer, paid one of the women, the adult film star Stormy Daniels, $130,000 in the closing days of the campaign. He has said he made the payment at Trump's direction, and Trump had acknowledged repaying Cohen through payments that were labeled as legal expenses.
The DA's office contends that was misleading and criminal. In their filing, Trump's lawyers contended it was accurate.
"President Trump cannot be said to have falsified business records of the Trump Organization by paying his personal attorney using his personal bank accounts," the filing said.
They argued the judge presiding over the case, Juan Merchan, "should dismiss the indictment or, in the alternative, conduct a hearing to determine the reason for the delay" in bringing the charges.
Trump has pleaded not guilty in the case, which is scheduled for trial in March.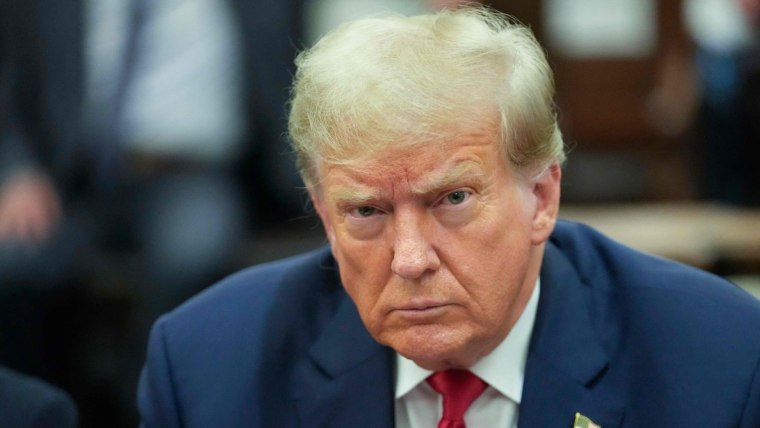 Trump and his company are on trial in a $250 million civil fraud case brought by the state attorney general's office. In that case Thursday, Trump's attorneys said they intend to ask an appeals court for a stay while they challenge Judge Arthur Engoron's ruling finding Trump and his company committed repeated acts of fraud.
Also Thursday, Trump's attorneys filed a motion in the federal election interference criminal case against him in Washington, D.C., arguing he should be shielded from prosecution because of presidential immunity.
In a court filing Wednesday night, Trump's attorneys also filed a motion in the federal criminal case accusing him of mishandling national secrets, arguing the trial in that case should be postponed until after the 2024 presidential election. They contended that prosecutors were clinging to an "unprecedented and now untenable trial date" in May.
Trump has pleaded not guilty in both federal cases and denied wrongdoing in the AG's civil case. He maintains all the cases are politically motivated and part of a Democratic "witch hunt" against him.

Adam Reiss
Adam Reiss is a reporter and producer for NBC and MSNBC.

Dareh Gregorian
Dareh Gregorian is a politics reporter for NBC News.
>>> Read full article>>>
Copyright for syndicated content belongs to the linked Source : NBC News – https://www.nbcnews.com/politics/donald-trump/trump-moves-meandering-new-york-hush-money-case-dismissed-rcna119106