News
Spaceflight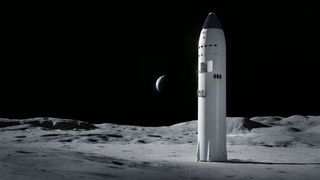 This SpaceX artist's concept shows the company's massive Starship vehicle on the moon.
(Image credit: SpaceX)
CAPE CANAVERAL, FLORIDA — Getting a peek inside their ride to the moon was a profound moment for the astronauts of NASA's Artemis 2 mission.
The Artemis 2 crew inspected the Orion spacecraft that will send them around the moon no earlier than November 2024 and are excited for what the milestone will bring, they told reporters here at NASA's Kennedy Space Center (KSC) on Tuesday (Aug. 8).
"Seeing the capsule for all of us sent shivers down our spines as we saw it for the first time inside. The real hardware made a real impression," Canadian Space Agency astronaut Jeremy Hansen, one of the Artemis 2 quartet, said on Tuesday, the day after their first visit.
"We were talking about picking out some spots, maybe like our favorite sleeping spots," NASA astronaut Victor Glover noted during a tour earlier in the day that brought reporters in front of the Artemis 2 Orion spacecraft at the Neil Armstrong Operations and Checkout Building at KSC.
With the crew being so busy with their training, the milestone moment is another small step toward liftoff. There are no major issues being worked for Artemis 2, NASA officials said, although what happens after that is under heavy discussion.
Related: How Artemis 2 astronauts are training for their 2024 moon mission
Safety is front of mind as the crew enter the last year of their training, emphasized Jim Free, associate administrator for NASA's Exploration Systems Development Mission Directorate. "This is a balance of pushing hard, but maintaining the right philosophy of not pushing too hard," he told reporters on Tuesday.
As for other hardware, the mobile launch tower supporting NASA's Space Launch System (SLS) rocket is undergoing repairs and upgrades following the massive liftoff of the successful uncrewed Artemis 1 mission in November 2022. All of the major hardware for Artemis 2's SLS is in Florida aside from the core stage, which is undergoing repairs in Louisiana before shipment here. The European Space Agency service module for Artemis 2's Orion capsule is also on site, and the heat shield should be ready by early next year.
"There's no impact to the overall critical path," Free said, referring to the items that need to be ready for the Artemis 2 launch to proceed on time. Training is also continuing apace, including recent key milestones in launch training, recovery training and crew training.
The Artemis 2 crew in front of their Orion spacecraft at NASA's Kennedy Space Center on Aug. 8, 2023. From left: Jeremy Hansen (Canadian Space Agency), Reid Wiseman (NASA), Victor Glover (NASA) and Christina Koch (NASA). (Image credit: NASA)
Where questions begin to arise is with the moon-landing Artemis 3 mission, NASA officials said, hinting that a new mission plan may be necessary if SpaceX isn't ready for the landing.
December 2025 is still the target launch date, but NASA is awaiting more information from SpaceX and the readiness of the company's next-gen Starship system, which has been tasked with landing the Artemis 3 astronauts near the moon's south pole. NASA officials were recently at Starbase, SpaceX's Starship hub in South Texas, to go over schedules and readiness expectations.
Starship made its first space attempt in April, a test flight that ended with the system spinning out of control and being remotely detonated over the Gulf of Mexico. In June, SpaceX founder and CEO Elon Musk said the company would likely be ready to launch again in six to eight weeks. The eight-week mark has since passed, though SpaceX has been gearing up for launch, performing a static-fire test recently with the booster that will fly the next mission.
The timeline for that flight also depends on the results of an ongoing review of the first launch that's being conducted by the U.S. Federal Aviation Administration. And acing a single test flight won't be enough to pave the way for Artemis 3: NASA needs to see multiple successful launches of Starship before putting astronauts on the vehicle.
SpaceX is not the only contractor NASA is managing for Artemis 3, Free added; the agency is also in talks with spacesuit maker Axiom Space about matters such as interfaces and readiness.
Free said it's possible NASA may choose to fly a different mission if Starship isn't ready in time by Artemis 3's planned launch date. The International Space Station (ISS) program, he said, has showed NASA ways of flying missions even if key hardware wasn't ready in time for launch.
Artemis 2's milestones will also inform Artemis 3. For example, NASA "may want to fly a different mission for [Artemis] 3 because we want to understand how the system works better," Free said.
Artemis 2 is planned as a staged mission, to give options for stopping at a particular milestone before going to the moon. That's also why the mission is not going to lunar orbit (even though commander Reid Wiseman joked at Tuesday's press conference that Hansen keeps asking to put them there).
Artemis 2's manifest calls for three orbits of Earth. The first will be at about 1,400 miles (2,600 kilometers) above Earth, nearly six times the altitude of the ISS. After that comes an engine burn that will put the spacecraft at an apogee (top of the orbit) at 38,000 miles (61,200 km), significantly higher than geostationary orbit. Only if those orbits look good will the crew be authorized for trans-lunar injection to fly to the moon.
"I really like the way safety is built into this into this mission profile," Wiseman said.
Join our Space Forums to keep talking space on the latest missions, night sky and more! And if you have a news tip, correction or comment, let us know at: [email protected].
Breaking space news, the latest updates on rocket launches, skywatching events and more!
Elizabeth Howell (she/her), Ph.D., is a staff writer in the spaceflight channel since 2022 covering diversity, education and gaming as well. She was contributing writer for Space.com for 10 years before joining full-time. Elizabeth's reporting includes multiple exclusives with the White House and Office of the Vice-President of the United States, an exclusive conversation with aspiring space tourist (and NSYNC bassist) Lance Bass, speaking several times with the International Space Station, witnessing five human spaceflight launches on two continents, working inside a spacesuit, and participating in a simulated Mars mission. Her latest book, "Why Am I Taller?", is co-written with astronaut Dave Williams. Elizabeth holds a Ph.D. and M.Sc. in Space Studies from the University of North Dakota, a Bachelor of Journalism from Canada's Carleton University and a Bachelor of History from Canada's Athabasca University. Elizabeth is also a post-secondary instructor in communications and science at several institutions since 2015; her experience includes developing and teaching an astronomy course at Canada's Algonquin College (with Indigenous content as well) to more than 1,000 students since 2020. Elizabeth first got interested in space after watching the movie Apollo 13 in 1996, and still wants to be an astronaut someday. Mastodon: https://qoto.org/@howellspace
>>> Read full article>>>
Copyright for syndicated content belongs to the linked Source : Space.com – https://www.space.com/artemis-2-astronaut-mission-on-track-artemis-3-questions