News
Spaceflight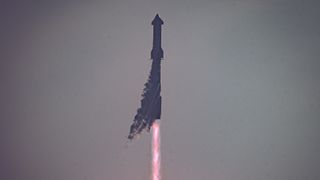 SpaceX's first integrated Starship and Super Heavy launch into the sky from Starbase at Boca Chica, Texas on April 20, 2023.
(Image credit: SpaceX)
You probably shouldn't hold out hope for a launch of SpaceX's giant Starship vehicle this month.
SpaceX is gearing up for the second-ever liftoff of Starship, the most powerful rocket ever built, from its Starbase site in South Texas. The vehicle slated to make the leap is ready to go, according to company founder and CEO Elon Musk; SpaceX just needs to secure the necessary regulatory approvals, including a launch license from the U.S. Federal Aviation Administration (FAA).
That license could be coming soon — though perhaps not as soon as Musk would like.
"We're working well with them and have been in good discussions. Teams are working together and I think we're optimistic [about issuing a license] sometime next month," the FAA's acting administrator, Polly Trottenberg, told reporters on the sidelines of a conference on Wednesday (Sept. 13), according to Reuters.
Related: Relive SpaceX's explosive 1st Starship test in incredible launch photos
Last Friday (Sept. 8), the FAA wrapped up its investigation of Starship's first flight, which occurred on April 20. That test mission aimed to send Starship's 165-foot-tall (50 meters) upper stage most of the way around Earth, with splashdown targeted for the Pacific Ocean near Hawaii.
But Starship suffered several problems shortly after launch, including the failure of its two stages to separate, and SpaceX detonated the vehicle on purpose high above the Gulf of Mexico.
Those issues spurred the FAA mishap investigation, which identified 63 "corrective actions" for SpaceX to take. The company has addressed the 57 actions that were required before the launch of Flight 2, Musk said recently via X (formerly Twitter). The other six corrective actions relate to future missions, according to the billionaire entrepreneur.
The timeline for Flight 2 — whose aims will be similar to those of the April mission — may remain murky even after the FAA issues a license, as Reuters noted.
"SpaceX would still need a separate environmental approval from the U.S. Fish and Wildlife Service before a launch," Reuters wrote. "Trottenberg did not say how long that might take."
Musk would like to fly Starship as often as possible. That's in keeping with SpaceX's ethos: The company iterates quickly and proves out, or finds issues with, its designs via test flights.
Join our Space Forums to keep talking space on the latest missions, night sky and more! And if you have a news tip, correction or comment, let us know at: [email protected].
Breaking space news, the latest updates on rocket launches, skywatching events and more!
Michael Wall is a Senior Space Writer with Space.com and joined the team in 2010. He primarily covers exoplanets, spaceflight and military space, but has been known to dabble in the space art beat. His book about the search for alien life, "Out There," was published on Nov. 13, 2018. Before becoming a science writer, Michael worked as a herpetologist and wildlife biologist. He has a Ph.D. in evolutionary biology from the University of Sydney, Australia, a bachelor's degree from the University of Arizona, and a graduate certificate in science writing from the University of California, Santa Cruz. To find out what his latest project is, you can follow Michael on Twitter.
>>> Read full article>>>
Copyright for syndicated content belongs to the linked Source : Space.com – https://www.space.com/spacex-starship-second-launch-possible-october-2023